Webinar: All About Spokeshaves with Peter Galbert
Replay Join chairmaker Peter Galbert, for a webinar on spokeshaves.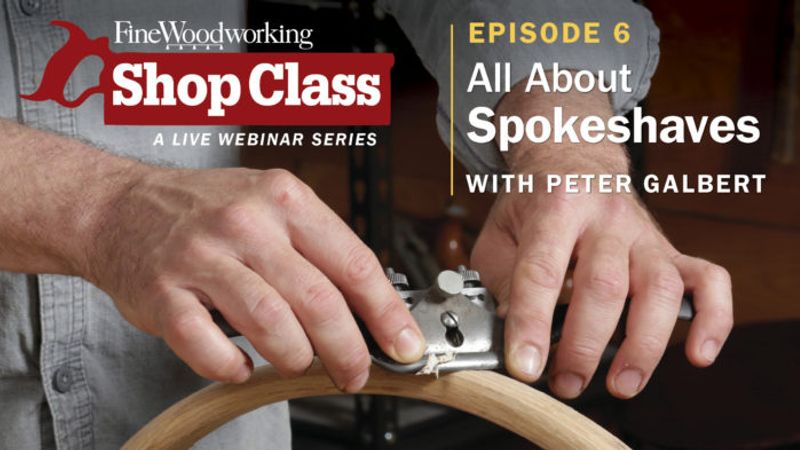 This webinar just might change your opinion of the spokeshave. They come in all sorts of configurations and styles—flat or curved sole, metal or wood—that make them ideal for shaping and smoothing wood. Putting a well-tuned shave to work, however, reveals so much more about the character of wood than any handplane can. These nimble tools get you close to the material, giving you an increased awareness of wood structure while adding speed and sensitivity to any shaping task. In this webinar, you will learn all about the variations in the tools, as well as the how, why, and where they are used. You will also learn about tuning and sharpening them to get the best results.
Keep an eye on this space for Galbert's upcoming article, "Spokeshave Essentials," where he talks about choosing and using shaves, sharpening, and shaping methods.
Galbert mentions a method chairmaker Brian Boggs uses where he epoxies the bed of a metal shave flat. You can read more about that here.
The Boggs Spokeshaves from Lie-Nielsen gets a lot of love in this webinar. Here's our review of it.
Ditto for the much-touted Caleb James spokeshave.
While Galbert hones freehand with a hollow grind, some of us want a helping hand. Here's a simple sharpening jig for holding the short spokeshave blades securely.
If making a wooden plane instead of buying one is more your speed, David Welter has you covered with this how-to guide.