How-To
Tips and Techniques for Taming Tearout
Don't let gnarly grain stand in your way. Gary Rogowski outlines his strategies for handplaning woods that are prone to tearout.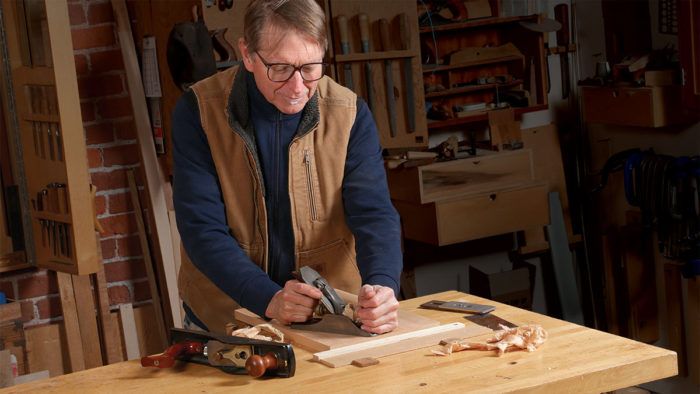 Synopsis: There's often a price to be paid when you choose wood with beautiful, swirling grain for your projects. Tearout. But with a few clever handplaning strategies, you can keep tearout from ruining your day. Gary Rogowski outlines his strategies for handplaning woods that are prone to tearout, from taking a thinner cut to modifying the chipbreaker or blade to increase the cutting angle.
---
It feels like the universe is punishing me when a board tears out while I'm handplaning, as if something I did as a kid is coming back to haunt me. After all, I select boards in part for their looks and grain, so when those work against me, fixing tearout seems like penance. Sometimes avoiding tearout is easy: Choose well-behaved wood. Take alder: When I want ease, I go with that. But I don't want to build every thing out of alder. In fact, for years black cherry was my wood of choice despite its frustrating difficulties. Its grain can rise and fall so much it resembles ocean waves, and its diffuse porous surface can make reading the grain a struggle. Still, it's so beautiful I couldn't help myself.
So obviously I won't let a little pain stop me from using beautiful boards. To make sure my projects don't suffer, I keep a few handplaning strategies in my back pocket. Some involve the blade, some involve the chipbreaker, but they all let you forestall sanding, a dusty mess I avoid as long as I can. Many of the techniques result in a tool that's harder to push, but they're all easier than dealing with torn-out grain after the fact.
Start simple
Before I start modifying the blade or chipbreaker, I begin with the basics. First, I back off the blade to take a thinner shaving. Tearout occurs when the grain lifts out ahead of the cut. When a plane's iron protrudes too far from the sole, it digs deeper into the wood, which can cause more tearout. Backing off the blade leads to a milder cut, reducing the likelihood of the grain getting away from you.
If a thinner shaving doesn't do the trick, I go to the second strategy, moving the chipbreaker closer to the cutting edge. This will roll back shavings sooner as they travel up the mouth, hopefully breaking them before they get the chance to tear out.
To handle more troublesome boards without modifying the chipbreaker or blade, I plane across the grain. This usually eliminates any tearout but leaves a very coarse surface that will need scraping and sanding. However, there are still some other options that work well while leaving a finer surface.
From Fine Woodworking #282
To view the entire article, please click the View PDF button below.
---
View PDF