Blog
Salt and Vinegar: Nature's Rust Remover
Remove rust without harsh chemicals or solvents.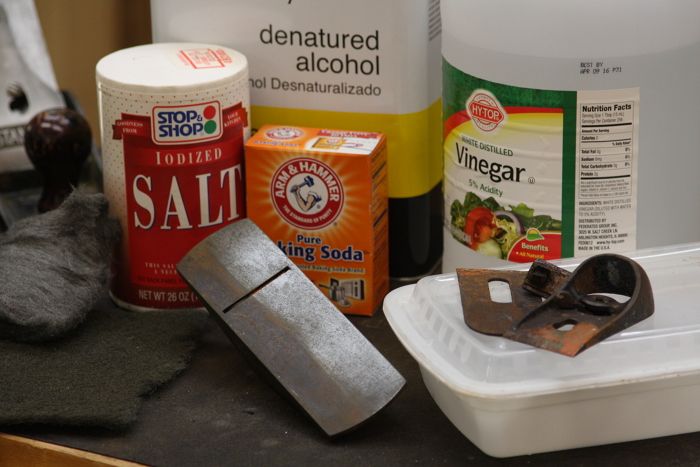 As a beginning woodworker and recent college graduate, I don't have the cash to buy brand new planes and tools. The issue with many old woodworking tools from tag sales and garages is that they have been sitting in a drawer, or worse a damp box, and have accumulated surface grime and rust over the decades or disuse or abuse.
I'll explain how to remove rust on vintage hand tools in a cheap and easy way without dealing with harsh chemicals or paying to have it cleaned. All you need is some salt, vinegar, baking soda, denatured alcohol, some abrasives like a 3M pad or steel wool, and a mat for your work bench.
Step 1: Use vinegar and salt to eat rust
The first step is to completely disassemble the plane and hose it down to get rid of the deposited dust, dirt, and loose scale on the plane. Now grab a plastic container deep enough to fully submerge the tool or pieces. In the case of the old Stanley 220 block plane above, a take-out container worked perfectly. After everything is in the container, fill it up with some white vinegar from the supermarket or your cabinet until it is fully submerged.
Once everything is sitting in its vinegar bath, it's time to add the salt. While vinegar by itself is a mild acid, the salt increases the acidity in the solution and let it chew rust even faster. When using a full gallon of vinegar, add a full cup of salt per gallon of vinegar. For this block plane, two hefty tablespoons, distributed evenly, was the perfect amount.
This is when you get to walk back into the house for dinner or a nap, and forget about that rusty plane for a while. Let it sit for at least 12 hours, but the longer you leave it in there, the more effect it will have. Usually one to three days will have the rust falling off.
Step 2: Start scrubbing
With the tool having sat in the solution, it's time to get that rust off. Remove the tool from the container and scrub it down with a 3M-style pad. I prefer the pad at this stage because its woven strands won't clog with the heavy sediment that will be coming off the plane. Any super tough rust can be hit with a brass-bristled brush.
Step 3: Neutralize the acid with baking soda
Now the acid solution covering the tool must be neutralized. Put everything back into the container and fill it with water. Wait, WATER?! Don't worry, it won't be in there long. Once things are submerged, add two tablespoons of baking soda (or about one cup per gallon, again) to the water and give it a mix. The baking soda will neutralize the acidity and also cause any vinegar trapped under or behind rust to foam and loosen even more.
Step 4: A final polish, then it's time for a tune up
Pull the pieces out of the neutralizer after about 10 minutes and scrub everything with some 0000 steel wool. At this point, the steel wool should start bringing a nice cast sheen to your tool without removing the patina. After this final scrub, wipe it down with a rag soaked in denatured alcohol. The alcohol will wick away any moisture left on the metal so rust doesn't come back to haunt you. Finish the cleaning with a light coat of camellia oil to make sure no new rust sets in.
Now that the plane is clean, it's time to set it up and get to making some shavings. For more information on getting the plane flat and ready to use, see Roland Johnson's article on tuning up a bench plane in Fine Woodworking #216.
There are a couple of extra tips about this process. While the vinegar and salt mixture will not harm steel, it can eat aluminum fairly quickly. If your plane has aluminum parts, be sure to only leave them is the solution for a few hours. This is critical when dealing with any threaded aluminum parts.
Also, another common issue with older planes is that the japanning (the black enamel coating) can sometimes be ruined or partially taken off. Some people don't mind leaving it half-on, but if there are extensive sections missing sometimes it is easier to start fresh by removing all the japanning. I've found toluene will remove stubborn enamel and allow a uniform cast look, and it can be applied with steel wool to etch off the coating.
| | |
| --- | --- |
| | Fighting Rust |
More on FineWoodworking.com
Salt, vinegar, baking soda, alcohol: the ingredients for a like-new plane.
This Stanley Bailey no. 3 was very rough when I got it and is in the middle of a treatment. After 2 days in the solution, I noticed that a lot of the japanning was loose or ruined. A quick scrub with some toluene and a brass brush removed that so now I can leave it nude, or repaint it with some automotive enamel.
Here's a Stanley Bailey 5 1/2 I recently received that was treated for about 2 days. While it wasn't as bad as the 220 block plane above, it had a fair amount of surface rust from sitting in a humid tool box.
You can see the bubbling around the fill line in the container. Debris can also be seen in the solution.
Here is the Stanley 220 standard block plane laying halfway in the vinegar and salt bath.
After giving the plane a scouring, I put it back into container with water and baking soda for about 10 minutes.
Once out of the neutralizing wash, it just takes some concerted scrubbing with a fine steel wool to bring out the shine of old steel.
After a solid 12 hours in the solution, I pulled the plane out and wiped it down quickly. A few swipes with a 3M pad removed the majority of the surface rust and nasty grime.