How-To
Which Finishes Are Food Safe?
Jonathan Binzen explores the menu of finishes for woodwork in the kitchen.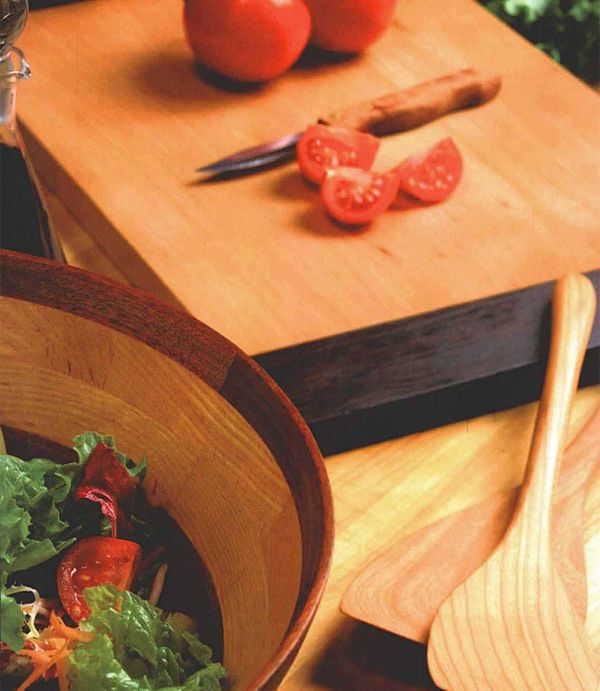 Synopsis: Experts disagree about the best food-safe finishes. Finishes can be divided into two categories: film-forming finishes and penetrating finishes. For a cutting or chopping surface, rule out the film finishes — polyurethane, lacquer, varnishes and epoxy aren't impervious to knives. Among penetrating finishes, there are unmixed oils and mixed oils. Jonathan Binzen of Fine Woodworking discusses each category and recommends which are best for which projects. He wades into the plastic vs. wood cutting board fray and lists edible finishes. He also includes a recipe for a fragrant finish.
From Fine Woodworking #129
I was hoping to compile a list of foolproof products and strategies for food-safe finishing. But I soon discovered that it wasn't going to be that easy. What I found, after scores of conversations with chemists and regulatory agencies, finish manufacturers, finishing experts and woodworkers, is that although there are a few finishes that everyone agrees are food safe, those finishes tend to be the least protective. I also found that the great majority of finishes are in a kind of limbo, with many experts saying most are fine for use with food but with others saying they should be avoided because there are some lingering questions about their safety.
For cutting boards and the like, you can cut the confusion in half. Wood finishes can be divided into two broad categories: film-forming finishes, which harden in a thin layer on top of the wood, and penetrating finishes, which harden (if they do harden) in the wood rather than on it. When choosing a finish for a cutting or chopping surface, you can start by ruling out the film finishes. Although film finishes like polyurethane, nitrocellulose lacquer, varnishes and epoxy form a hard surface and are considered by many to be nontoxic when cured, they aren't impervious to knives. By cutting on boards with these finishes, you'll eventually slice through the film, inviting water underneath and compromising the finish.
That leaves you with the penetrating finishes to choose from. From the standpoint of food safety, this group can be chopped in two as well. On one side are what I'll call unmixed oils—pure tung oil, raw linseed oil, mineral oil and cooking oils such as walnut oil. These unmixed oils are all naturally occurring substances, are all sold in their pure form and are all perfectly edible (although not all delectable). On the other side are what I'll call mixed oils— boiled linseed oil and the range of oil-and-varnish mixtures often sold as teak oil, tung oil finish and Danish oil. The mixed oils are synthesized blends of oil, resins, driers and other ingredients whose identity often won't be revealed on the can.
As a class, the mixed oils offer considerably more protection from moisture and staining than the unmixed oils because of the resins and other additives most mixed oils contain. (Boiled linseed oil is an exception. It does not contain resins and is not as water-resistant as the other mixed oils.) Mixed oils are made easier to use by the addition of driers.
For the full article, download the PDF below.
View PDF