Tools & Materials
The Best Ammonia for Fuming White Oak
This test compares the effectiveness of household, janitorial, and industrial-strength ammonia.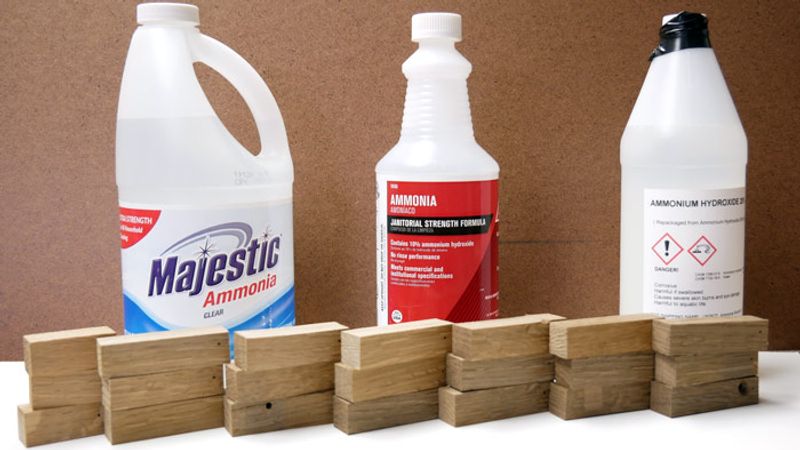 Since household ammonia is fairly weak at only 5% to 10% ammonia, contributing editor Chris Gochnour uses a commercial aqueous ammonia (also known as aqua ammonia or ammonium hydroxide) that is a potent 25% ammonia mixed with water to fume his white-oak projects. You can purchase commercial-grade aqueous ammonia online, or at some janitorial supply stores. Fine Woodworking creative director Mike Pekovich has been using janitorial-strength ammonia (10%) to fume his projects for years. It's a bit easier to locate, assuming you are within driving distance to an Ace Hardware, the only place either of us have been able to find it. On the other hand, household-strength ammonia is incredibly easy to find. Over the last couple of weeks I paid attention, and I was able to find it at every grocery store and hardware store I went to.
For this test, I started with three resealable containers. In each, I placed equal amounts of each concentration of ammonia, and eight pieces of oak, all cut from the same board. At designated intervals, I pulled one piece out of each container and labeled it. I changed out the ammonia for a fresh batch every 24 hours.
After 72 hours
In my potting shed, where I was running this experiment, the pieces seemed to hit their full concentration after 72 hours. After bringing everything inside, a part of me wishes that I let the experiment run one more day. That said, in my entirely non-scientific experiment, I feel like we got some fairly interesting results.
I had heard that weaker ammonia can cause some oak to have a little bit of a green cast. In my experiment, the differences in color were indiscernible to me. As expected, the weaker strength ammonia just took longer to darken the oak.
The darkness of the 48-hour janitorial sample matches the 72-hour household sample. Same for the 48-hour industrial sample and the 72-hour janitorial.
More than skin deep
Many woodworkers prefer fuming with ammonia because the color goes deeper into the wood, making it a non-issue if you have to sand or plane a piece after fuming. This is where my experiment got really interesting. After 72 hours, the household strength reached about a 1/16 in. beneath the surface, janitorial about 1/8th in. deep, and the industrial sample had full penetration. If you are looking for color that runs deeper beneath the surface, I would reach for janitorial or industrial strength.