How-To
Splash Color on Wood
Bright pigments bring energy and excitement to furniture.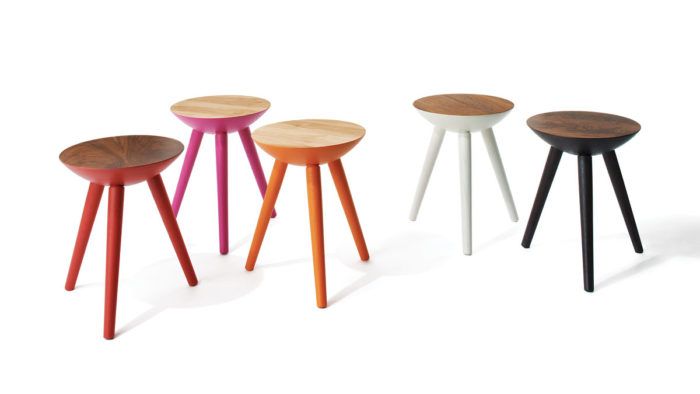 Synopsis: A background as a painter paved the way Scott McGlasson to incorporate bright colors in his furniture. His tables and stools make bold use of pigment and he achieves his look with a variety of finishes, including lacquer, dyes, and stains. Take a look at his pieces and it may inspire you to make use of color in your next project.
---
I've been splashing pigment on hardwood since my earliest days as a furniture maker. The instructor and old-timers at the votech where I took night classes were aghast—I was skewering a sacred cow. But I kept it up, and now it's second nature to me. Color can do so much: It can energize a simple form, it can be edgy and iconoclastic, or it can be playful and add an element of surprise.
I worked my way through college as a painter and finisher on my way to an English degree. After a half dozen years working in education, I fell hard in love with woodworking and brought my painting and finishing knowledge to full-time furniture making.
I use a lot of different finishes to get color on my furniture. To achieve an opaque coating, I'll often spray pigmented lacquer. This is essentially like paint—the color is in the finish, not in the wood. I usually mix the colors myself using lacquer-based colorants, or TransTint, a type of dye you can add to clear lacquer. But you can get pigmented lacquers professionally color-matched to just about anything. Lacquers need to be sprayed in a controlled environment with proper ventilation and good spraying skills, but they level like nothing else and are very durable.
Alternately, especially for white or black pieces, I'll use dyes or stains to color the wood directly, and then spray a clear or slightly tinted topcoat.
To color some of my turned pieces I like Rubio Monocoat, a modern, oil-and-wax finish from Belgium with no VOCs (volatile organic compounds). It was invented for flooring, but it works well on furniture. The color selections are limited and it's expensive, but it's easy to apply and doesn't require a spray booth.
From Fine Woodworking #252
For the full article, download the PDF below:
View PDF