Chris Becksvoort, the dovetail master at work
Just another dovetail video? Not really, when you can watch Christian Becksvoort dovetail a drawer packed into a 7-minute edit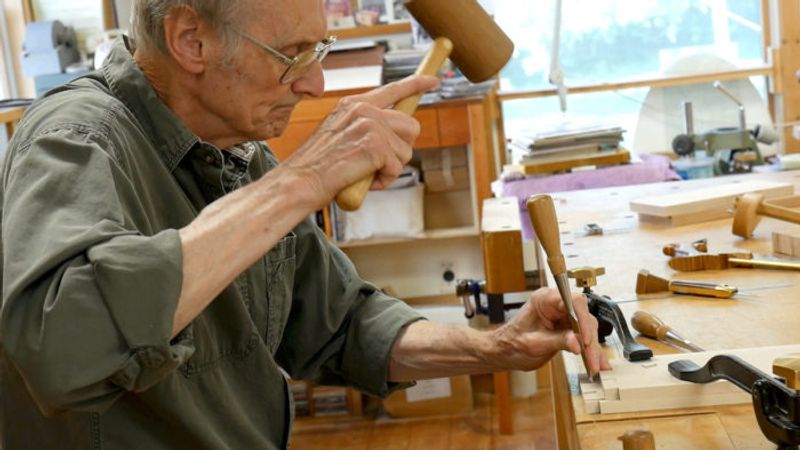 A couple of months ago I found myself in Maine with a day to kill. The perks of my job are endless, but the fact that I often wind up in Maine with time to kill is one of my favorites. In planning ahead, I reached out to contributing editor Chris Becksvoort and asked if I could point a camera at him for a couple of hours while he worked in his shop. I didn't really have anything in mind other than capturing the modern master of Shaker furniture at work.
These days, we are too often wrapped up in trying to capture every nuance of woodworking, and in doing so lose sight of the pace of the work being done and the attitude with which it is done. I can tell you with absolute certainty, Chris doesn't mess around in the shop. There is work to be done and there are bills to be paid by doing it. In Chris's shop, dovetails aren't something to be fretted over or treated as a preciousness act, like us mere mortals tend to do. They are simply the next step of the build and they need to get done. Yet they're perfect. I mean it—perfect.
Chris has written lots of articles for us about his dovetail methods—and they're phenomenal. This video probably encompasses them all, but unfortunately there is no secret sauce to be had here. This is the work of a man who has cut thousands and thousands of dovetails. There is no hesitation in his work, no question as to what tool comes next, and certainly no wavering in the motions he uses. Deliberate is the only way I can describe the way Chris works. It is a sight to behold.
In this short video I tried to capture that attitude. I tried to capture what it's like to watch a master work for a couple of hours. It's not a how-to, or a step-by-step tutorial, but I think there are an incredible number of lessons to be learned.
Music: Lazy Monday by Dan Baird and Homemade Sin
Written by: Dan Baird, Warner Hodges, and Terry Anderson
More on FineWoodworking.com