Blog
Easy-On Wax Finish for Furniture
Mineral spirits makes wax easier to apply and wipe off.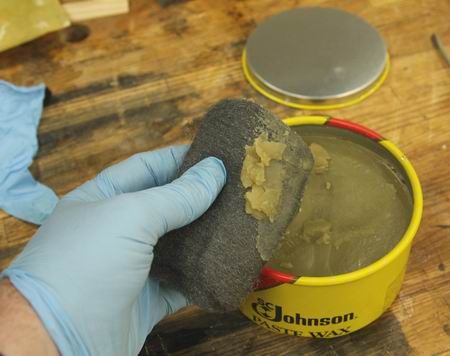 I've been using paste wax as the final polish on my furniture for years. I apply it with 0000 steel wool, let it sit, and then wipe it with a clean cotton rag to buff it out.
The first few times I used the product, it wasn't so easy. The wax was often pretty stiff and tended to clump up on the applicator, making for a heavy application and thus a harder time removing it from the piece and buffing it after it sits.
The solution is to pour a small amount of mineral spirits onto the wax in the can. Typically a teaspoonful is enough, but you may need to add more if the wax is still lumpy or dry. Just don't add so much that you end up with wax that's the consistency of cake batter.
Dip the applicator in and lightly swirl the mineral spirits around. The wax will be thinned enough that it goes onto the applicator without clumps. This makes the wax go on smoothly and evenly. And best of all, it's easier to wipe off and buff to a nice, soft sheen.
Lumpy and thick. Paste wax tends to be thick and lumpy when first opened. It also tends to dry out a little when it sits unused for a while.
Smooth and thin. With a splash of mineral spirits, the wax gets thinned, making it easier to control the amount on the pad.
Wax on. A thin coat of wax goes on easily and more evenly after it's been thinned.
Wax off. The thinned application is also easier to buff out.
The perfect pair. Use mineral spirits to thin paste wax prior to application.