Tools & Materials
Brushes, Rags, Cloths, and Pads
Learn more about the choices for applying finishes by hand.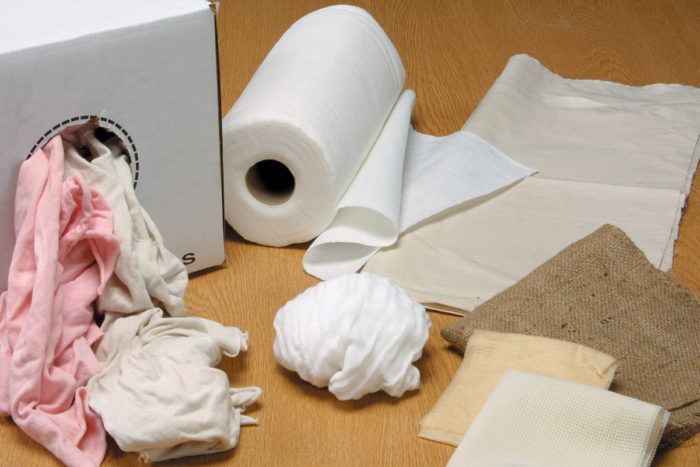 Finishing is uncomplicated if you decide to go the hand-application route. Basically, you can choose from rags, paper towels, and brushes.
Rags, Cloths, and Pads
Almost any clean absorbent cotton cloth will work for applying finishes. I recommend bleached, 100% cotton T-shirt material. Paper towels are also handy for applying wiping varnishes. I prefer a nontextured type of paper towel such as Viva or Scott towels. Linen, 100% wool, and muslin (found at fabric stores) are used in some finishing procedures such as French polishing. Padding cloth for applying shellac and padding lacquers is available from specialty finish suppliers. Tack cloth (sold at paint and hardware stores) is used for cleaning debris and dust from sanding between coats. Lamb's-wool applicators and short-nap rectangular pads work well for applying finishes to large surfaces like floors and walls. Brush-style foam pads are suitable for most varnishes and water-based finishes.
Brushes
Brushes are available in a large selection of bristle types, shapes, and prices, but they all fall into two general categories: natural or synthetic. Natural-bristle brushes are commonly made from hog hair (China bristle) and can be used with oil-based products, varnish, shellac, and lacquer. Synthetic bristle is made from man-made fibers like nylon or polyester. Synthetic-bristle brushes are used for applying water-based products as well as most other finishes. The key features of a brush are the shape and profile of its bristle. Round, fat brushes hold more finish, while sharp, chiseled-edge brushes cut into corners and crevices better.
Square-tipped brushes sport a squared-off top. These inexpensive brushes are fine for general-purpose, noncritical work. Chisel-tip brushes are handmade with shorter bristle lengths on the outside and longer bristles in the center. The chisel tip does a better job of laying down a smooth finish than nonchiseled brushes. Many brushes are available with rectangular or round profiles. Round-profile brushes contain approximately double the amount of bristle and are preferred by some because they hold so much more finish.
---
Brush Anatomy
Brush bristles are set into an epoxy setting that anchors the bristles and attaches them to the handle. A metal ferrule wraps around the plug, attaching to the handle with rivets. A wooden divider in the plug creates a reservoir in the bristle to hold the finish. When you're dipping the brush, capillary action pulls the finish up into the reservoir, where it's held until the bristles contact the wood to dispense the finish.
---
Basic Inventory
Following is a basic inventory of brushes for various finishing tasks.
Two good-quality rectangular, chisel-cut bristle brushes for applying clear finishes. A 2-1/2-in.-wide brush is a good all-around size for large areas, while a smaller 1-in. brush is better for detail work. Cost: $30 to $40 for a decent 2- or 2-1/2-in. brush.
Several inexpensive, round or square, average-quality bristle brushes for applying stains and glazes. Cost: $10 or less.
At least one good-quality 2-in.-wide synthetic-bristle brush for applying water-based finishes. Cost: $12 to $35.
Several artist's brushes, including a no. 1 and a no. 4 for touch-up and detail work. Cost: $5 to $6 each.
An expanded inventory would include a few fine-nylon artist's brushes (generic name: Taklon), as well as several 1 in.- to 2-1/2-in.-wide chisel-cut round brushes for creative effects like softening and blending glazes, antiquing, and highlighting.