How-To
Brushes for Woodworkers
Choose the right one for the job and get great results.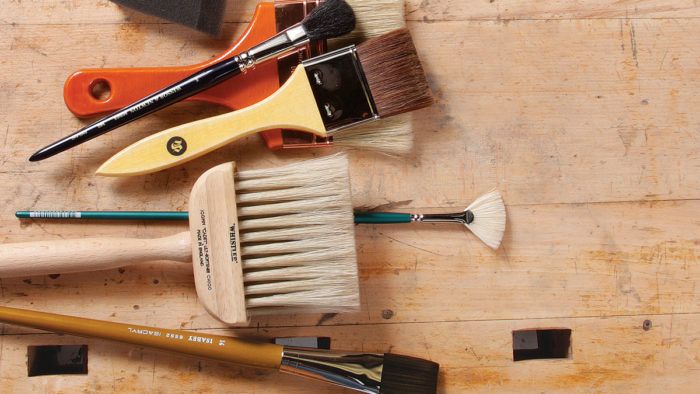 Synopsis: Finishers feel about brushes the same way woodworkers feel about clamps: You can't have too many. The right brush for narrow, curved surfaces isn't going to work well on flat, rectangular surfaces. The best brush for dyes and glazes might not be the best one for shellac. It pays to know which size, shape, and material is best for the job. That's where professional finisher Peter Gedrys comes in. He'll walk you through assembling a custom brush kit that will help you handle any situation, from foam brushes for clear finishes to artist's brushes for detail work.
---
Visit a pro finisher's shop and you are likely to be confronted with a bewildering array of brushes: round handles, flat handles, bristles long and short, ox hair, goat hair, squirrel hair, and nylon. Why do I have so many? The most important thing that a finisher knows about brushes is exactly what a woodworker knows about router bits: One size and shape does not fit all. That's because there's more to finishing than just brushing liquid onto flat, rectangular surfaces. The brush that works well for that isn't the best choice for narrow or curved surfaces.
To help you pick the right one, here's an overview of the brushes that I use most often. With a little guidance you can put together a custom brush kit that will help you handle any situation, from applying clear finishes on flat surfaces to detail work with dyes and glazes.
Details
For profiled surfaces and other details, I use a flat brush with short 1-in. filaments. This one (left) is made with soft black ox hair (Habico No. 660D; $53, Sepp Leaf Products, 800-971-7377). The brush is small, measuring just 6 in. long. The handle is flat and extremely thin, making it comfortable to hold and easy to control. The filaments are beveled at the tip and lay down a very fine coat due to the softness of the hair.
This little brush can cover a lot of ground. Once the brush is fully charged with varnish, I can easily do the narrow facets of the raised panels of a large door and I only have to dip it in the finish once or twice.
For applying clear finish to irregular surfaces, my first choice is a round brush shaped like a mop and made with very soft goat hair.
The brush holds a lot of finish. Fully loaded, it can lay a thin, even coat on a table leg without reloading. The soft hairs are also long and flexible enough that they can lay flat and conform to any surface you're finishing-a huge help on parts like turned table legs, especially those that a re tapered or reeded.
From Fine Woodworking #236
For the full article, download the PDF below:
View PDF