Shop Tips
A Way-Too-Simple Drying Rack
A tic-tac-toe arrangement of oak sticks makes an ideal knockdown rack for drying cabinet doors.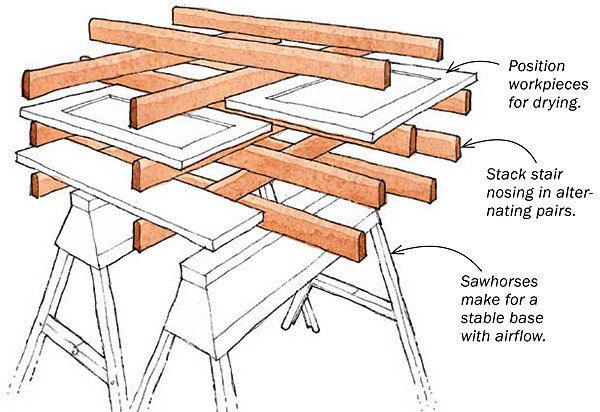 The drying rack I use when finishing is simple and cheap, and it knocks down for storage. I make it from 4-ft.-long leftover stair nosings stacked up in a tic-tac-toe configuration. The arrangement shown in the sketch will hold about 15 cabinet doors.
All four sides are easily accessible for placing or removing the finished doors. The arrangement looks shaky but is actually quite stable and the more weight is added the more stable it becomes. Just be careful on the top tier to place the first door in the center. The weight of the oak sticks is sufficient to allow the placement of a single door anywhere, but I suggest starting at the bottom. Since I will spray cabinet doors about twice, maybe three times a year, I keep the sticks up in the rafters, off the floor, out of sight. I have about 30 or so and I'm not throwing them out.
Drawing: Jim Richey