How-To
Thick Tabletops from Thin Stock
Create lightweight panels with a heavyweight look.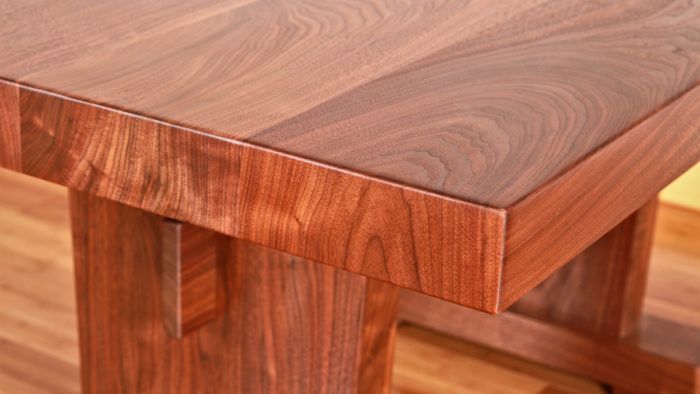 Synopsis: Create the illusion of a massive, solid-wood top without the weight and the treasure hunt for expensive 12/4 planks. Mark Edmundson makes his hefty-looking tabletops from oversize 4/4 stock, "folding down" the offcuts and mitering them to the edges. Return strips glued along the inside of the bottom edging make it feel authentic to grasping fingers. Edmundson knew he was onto something when a timber-framing buddy couldn't tell that his faux slab tabletop wasn't really made from a 2-in.-thick panel.
Whether it will stand in a stark modern house or in a rustic timber-frame, a table with a massive solid-wood top can be a powerful presence in a room. I often get requests for such tables, but here in Idaho there's no local supply of big hardwood trees, and getting 12/4 planks means ordering very expensive, very heavy slabs from far-off places, sight unseen, and paying for shipping. So once when a client asked for a 3-in.-thick tabletop it occurred to me I could make one from 4/4 solid stock. I could glue up an oversize panel, cut off strips along the sides and ends, and then miter those offcuts and fold them down to create the appearance of a solid slab.
After I glued up my first faux slab tabletop and cleaned the glue joints, a timber-framing buddy stopped by the shop. His first words were to ask me where I got the 12/4 black walnut for it. Even after examining the top, he didn't realize it was all 4/4. That's when I knew the faux version was a great alternative to the real thing.
To make the illusion even more convincing, I glue return strips inside the bottom of the edging, so if you grab the tabletop and feel underneath, it seems like a full-thickness slab. There was one hiccup, though. The first time I added those strips underneath, I noticed that the top of the table gave off a deep echo when thumped. I solved that problem by adding a piece of 3⁄4-in.-thick plywood to the underside. That deadened the noise completely. It also made the top easier to attach to the base, since I could screw the plywood to the base and then attach the solid top through slotted holes that accommodate seasonal movement. If you choose not to add the return strips, you won't get the drum sound and you can forego the plywood. One other note: Using this technique, the miter where the side and end edging pieces meet is a cross-grain joint, so I wouldn't make one of these tabletops more than 4 in. thick.
For the full article, download the PDF below:
View PDF