Projects and Plans
Making a Table Expand
Slides do the hard work, but construction is different, too.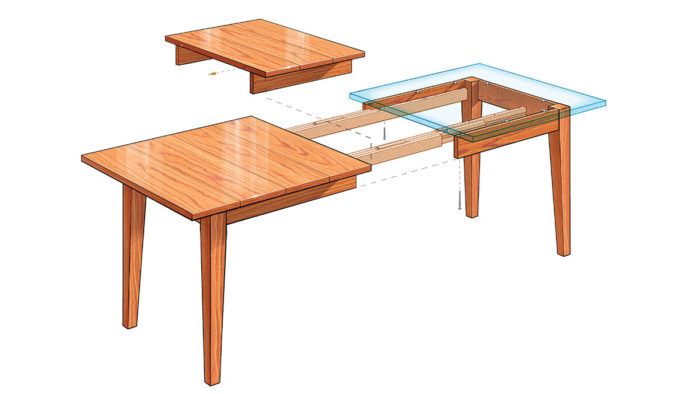 Synopsis: An extension table is a great space saver: From day to day, it seats a few people and takes up little space. When company comes, just slide the two halves apart and insert a leaf or two to handle a crowd. Building a sturdy, smooth-sliding extension table isn't especially difficult, as long as you keep a few details in mind. Furniture maker Jeff Miller guides readers through those critical details as he demonstrates how to build an expanding table, from choosing and installing the right slides to jointing and leveling the pieces that go together to form the tabletop.
An extension table is a great problem solver. Most days, when the table has to accommodate only a few people, it remains compact to save space. However, when company comes, the two halves of the tabletop slide apart and a leaf (or two) can be added to make room for the extra diners.
Building a sturdy, smooth-sliding extension table isn't especially difficult. If you keep a few rules in mind and follow the basic procedures outlined here, things go together with relative ease.
Anatomy of table slides
At the heart of an extension table is a pair of slides that guide and support the halves as the table is opened and closed. The slides mount to the underside of the tabletop, one along each side, connecting the halves. A typical slide has two to four sections.
Good extension-table slides open and close smoothly and easily. They should hold the tabletop halves in proper alignment so that the leaf (or leaves) can be inserted without a lot of fuss.
The amount of play inside the sliding sections is an important part of the smooth and easy equation. Too little clearance and the mechanism may be difficult to open and close. Too much clearance and the table may sag when opened, which means the tabletop and leaf won't be flat from end to end.
There are a few different types of slides, but regardless of which you use, you can minimize sag by keeping two general rules in mind. First, use the longest slides that will fit between the end aprons when the table is closed. That's because when the table is opened to accept the leaves, it's best if each section doesn't open all the way. The resulting overlap helps stiffen the slides. Second, as long as you have adequate extension, a slide with fewer sections is better than one with more sections.
The best slide for your table
You have options when choosing a commercial tabletop slide: commercially made wood or commercially made metal. A shopmade slide using heavy-duty commercial drawer slides is a third option and one that I often use. Each option has advantages and disadvantages.
Commercially made wood slides—The most common commercial slides are wood. They are available in a variety of configurations. Most work smoothly and look better than steel. However, they tend to have a bit more sag than I like. That usually can be overcome if the table has enough room for long slides with only a few sections.
Commercially made metal slides—Metal extension slides also work smoothly. They have less sag than standard wood slides and don't warp. To me, though, metal slides look somewhat unsightly inside a high-end piece of furniture.
From Fine Woodworking #182
For the full article, download the PDF below:
View PDF