Projects and Plans
Installing a Desk Gallery
Using dadoes and V-grooves, the parts simply slide into place.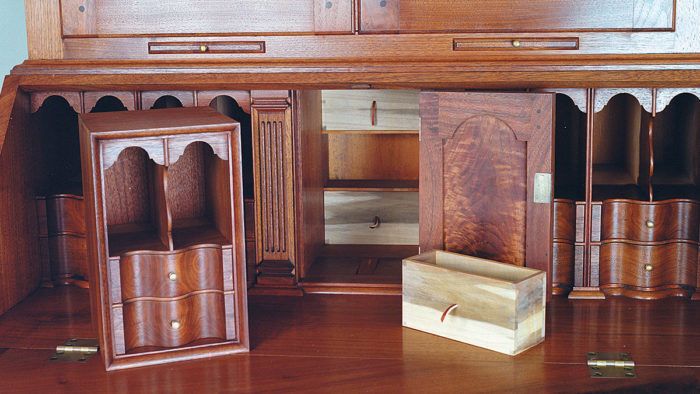 Synopsis: A gallery is an attractive way to use space efficiently when building a desk or secretary of any style. Lonnie Bird shares his method for installing one that relies on dadoes and V-grooves in this continuation of articles on how to build a reproduction 18th-century Pennsylvania secretary. Though it has an intricate appearance, it is simple to construct. In the article, he also describes how to make and use templates for many of the parts. Included is a detailed project plan of the desk gallery from his three-part series.
Whether you're building an 18th-century secretary, an Arts and Crafts desk or a wholly new contemporary version, a gallery is an attractive way to use space efficiently. I've developed a method for installing a gallery that relies on dadoes and V-grooves. To explain this process, I'll walk you through the installation of a gallery on the 18th-century secretary featured in the last issue (FWW #154, pp. 50-55). This method not only simplifies the construction and installation of any desk gallery, but it also can be used on other types of furniture, including sideboards, chests of drawers and CD racks.
---
See it in action:
In this video, Lonnie demonstrates the
hidden compartments of his desk gallery.
---
That said, I must admit that I can't resist the allure of furniture from the 18th century. I've always thought the galleries in Pennsylvania secretaries were a perfect balance of function and aesthetics. Judging by the number of surviving examples, it seems evident that the gallery I chose for my secretary was a favorite of the period. The numerous drawers and pigeonholes provide a system of organized storage space, and the curves, which are repeated in the seat board, the drawer fronts and the dividers, provide a recurring theme—much like an 18th century musical canon.
Before beginning, you may want to study related examples and design a gallery that reflects your own personal tastes. Many Pennsylvania secretaries feature carved-shell drawer fronts and elaborate turned-and-carved pilasters, yet others are quite simple, without the curves and other embellishments.
Settle on a design
The gallery portion of the secretary adds tremendous detail and visual appeal to the secretary, with the focal point being the small door in the center. The 18th-century craftsmen used the gallery as a place for creativity— and you can, too. Drawer fronts can be plain, curved or carved. The door can be simply a hinged plank of figured stock, a carved panel or a frame and panel. Flanking the door are two tall, narrow document drawers. These drawer fronts often are embellished with flat columns, called pilasters, which clearly portray the close ties between 18th-century furniture and architecture.
From Fine Woodworking #155
For the full article, download the PDF below:
View PDF