Projects and Plans
Tombstone Doors for a Secretary
Combine machine work and handwork to create arched panel doors with 18th-century style.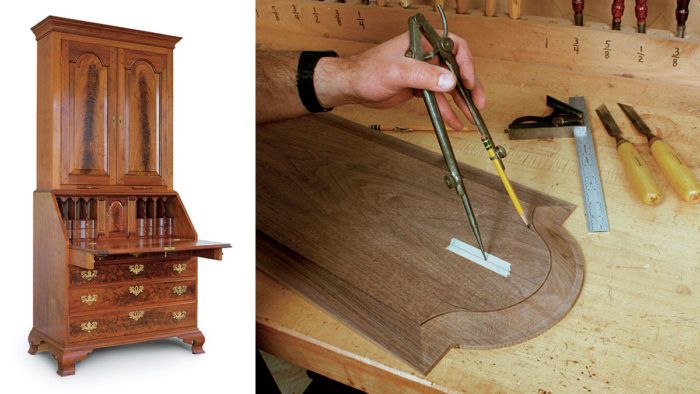 Synopsis: This guide to creating tombstone doors with a mix of hand and power tools is a quintessential lesson for any woodworker aiming to build furniture in the 18th-century style. Author Lonnie Bird illustrates the process as he builds doors for a reproduction Pennsylvania secretary. Find out how to create a flawless thumbnail edge with a router and a chisel, and a safe way to cut the raised panel on a router table. Also find detailed project plans for two standard-size tombstone doors; one for the upper case of the secretary, and one for the small prospect-box inside the desk gallery.
I've always been intrigued by the close ties between the furniture and architecture of the 18th century. Proportions, shapes, moldings and myriad other details were shared by both house joiners and furniture makers of the period. One of the most commonly shared forms was the arch. This simple, elegant shape has endured since Roman times because of its strength and beauty. In fact, many of today's kitchen cabinets feature arched panel doors, although the distinctive tombstone shape has given way to a more gentle, sweeping arch, which is easier to produce.
The doors play an important part in the aesthetic success of the secretary featured here and in FWW #154 and #155. The tall panels give the case its much-needed vertical proportions, and the tombstone arch is visually appealing. As you'll learn, building a true arched panel door isn't that difficult, and it's only a bit more timeconsuming than making a door with a sweeping arch.
Use straight-grained stock for the frame
I begin door construction by measuring the opening in the case. Because the doors are rabbeted along the edges to form a lip, they must be constructed to precise dimensions. Although the doors overlap the opening by in. on top and bottom, they overlap the hinge stile by only in. With a greater overlap, the lip would bind on the cabinet stile and prevent the door from opening. Also, the wide stile on the left-hand door creates the illusion of a center stile when the doors are shut.
Wood selection for the doors is critical. Using straight-grained stock for the frame adds strength and helps prevent warping. After milling the frame stock, lay out and cut the mortise-and-tenon joints. At this point you're ready to lay out and bandsaw the arch on the upper rail. The curve is easily smoothed with a file or a spindle sander.
Lonnie Bird is an author and woodworking instructor. Visit him online at www.lonniebird.com.
From Fine Woodworking #156
For the full article, download the PDF below:
View PDF