Tools & Materials
Bevel-up Jack: Change the Angle of Attack
You can change the cutting angle of these hand tools to tackle a variety of planing tasks.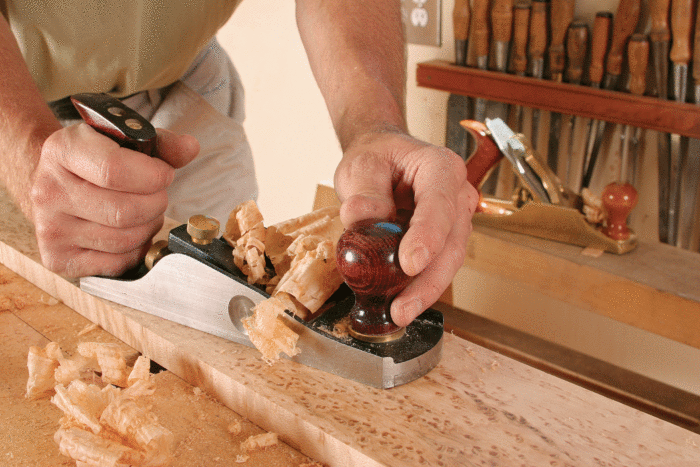 When compared with bevel-up models, I find that standard jack planes are a better choice for first-time buyers because they leave a slightly better surface when doing fine work and they adjust more easily, characteristics that are beneficial, especially for someone relatively new to planing. That doesn't mean bevel-up planes don't have a place in the shop. With the blade bedded at a low angle, these planes were originally designed for surfacing end-grain butcher-block tops, but they have gained popularity as a general jack plane alternative. The likely reason is their versatility.
Low angle for end grain. A blade ground at 25° results in a cutting angle of 37°, which is perfect for cleanly slicing end grain. That's why a low-angle plane is ideal for use with a shooting board.
Out of the box, a bevel-up plane is typically sharpened for a 37° cutting angle, which is the bed angle plus a 25° bevel on the blade. That's great for end grain and wood with highly cooperative grain, but they tend to tear out with more challenging grain. In these situations, you need to increase the effective cutting angle by sharpening the blade's bevel at a steeper angle.
Most useful angle. A 33° grind will turn your bevel-up plane into a standard jack plane, making easy work of smoothing and flattening tasks.
For instance, to match the 45° cutting angle of a standard jack plane, the blade needs a 33° microbevel (or a completely reground bevel, if you want to go through all that work). And you can go steeper. I keep two extra blades on hand: one for a 45° cutting angle and another for a 75° cutting angle. My steepest blade basically turns the plane into a very effective scraper plane. Keep in mind that these steeper angles aren't as durable and will dull more quickly than a blade sharpened at 25° to 30°; that's an optimal angle taking into account smoothness of cut and durability of the edge.