How-To
The Confusion Over Wipe-On Finishes
One type is easier to apply…the other offers more protection.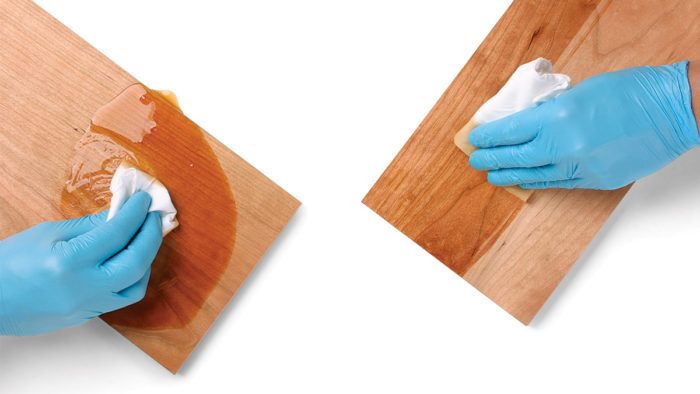 Synopsis: What's the difference between wiping varnish and an oil/varnish blend? What is a Danish oil? How do you know which one to use? The key, Hendrik Varju says, is to understand how these different wipe-on finishes are made. Then you'll have the keys to understanding where each one is best used and how to apply it. Read on to take the mystery out of choosing a wipe-on finish.
---
Wipe-on finishes are a favorite of many woodworkers, both amateur and professional, because of their easy application. However, there is great confusion over what exactly constitutes a wipe-on finish: You'll hear one woodworker talk of wiping varnish, another of an oil/varnish blend; then somebody throws around the term "Danish oil," and pretty soon you have no idea which finish is which.
These finishes are not identical. To make the right choice, you need to know what each finish is made from, the pros and cons, where to use each one, and how to apply it. Only then will you discover how practical these finishes really are.
Different ways to create a wipe-on finish
It may help to think of varnishes, oils, and their various offspring as occupying a kind of grid: In the top right-hand corner is varnish, which is hard to apply (brush marks, sags, runs, and a magnet for dust) but offers enormous protection. In the bottom left-hand corner is pure oil finish, which is easy to apply (wiped on with a cloth, surplus wiped away, no dust problem) but offers minimal protection.
Between these two extremes are wiping varnishes and oil/varnish mixes. In making these finishes, manufacturers wanted to combine the good points of varnish and oil and avoid the negatives.
Wiping varnish is made by thinning varnish with mineral spirits. It dries faster, attracting less dust, but because each coat is thinner, it offers less protection than a coat of undiluted varnish.
An oil/varnish blend is made by combining linseed or tung oil with varnish. This product gives more protection than oil alone, but less than a wiping varnish. Because it allows you more time to manipulate the finish, it is even easier to apply than wiping varnish.
How to recognize each product
One of the main reasons for the confusion between wiping varnishes and oil/varnish blends is the way manufacturers name their finishes. What is Danish oil? What is salad-bowl finish? Why is Minwax Tung Oil Finish an oil/varnish blend and Formby's Tung Oil Finish a wiping varnish?
There are two ways to make certain of what you're using. The directions on the can may provide the first clue: If the can says to apply the finish with a cloth and let it dry, but doesn't mention wiping off the excess, then you have a wiping varnish. If it tells you to wipe off the excess a short time after applying it, then you have an oil/varnish blend. You also can compare how a puddle of the finish dries.
From Fine Woodworking #207
To view the entire article, please click the View PDF button below.
View PDF