How-To
Fire and Disposal Safety
To avoid finishing-related fires, follow these guidelines for the proper disposal of finishing wastes and materials.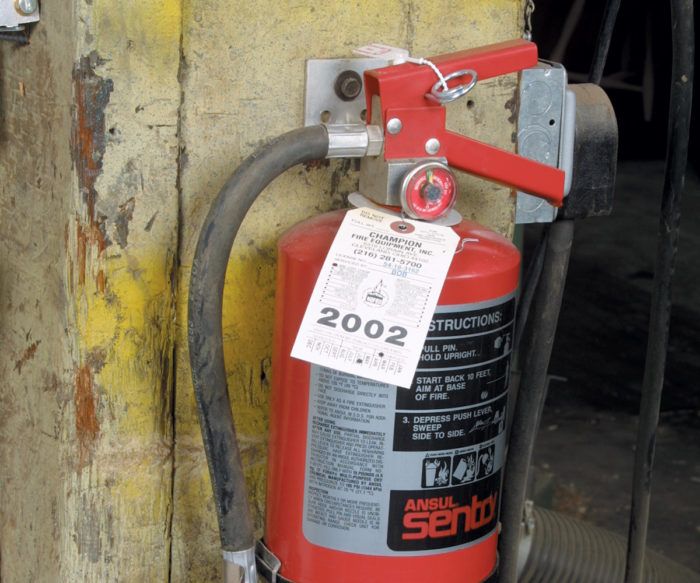 Most finishing products contain materials that are flammable or hazardous to the environment. First and foremost, you should have at least one ABC-type fire extinguisher near your finishing area, which will handle the three common types of potential shop fires. These, of course, are mandatory in commercial shops. One of the most common dangers is spontaneous combustion caused by improper disposal of finish-soaked rags. More finishing-related fires have probably been caused by this than by any other reason. Dispose of used rags properly!
Take care to properly dispose of finishing wastes. Never pour them down the drain, even water-based products (which contain hazardous chemicals). Many municipalities have a paint and solvent recycling program, and welcome drop-offs of these materials. Commercial shops will have to pay for hazardous waste services and/or invest in a solvent-recovery system. Solvent-recovery systems are often a cost-effective option if you generate more than 5 gallons of solvent waste per month.
You can easily recycle and reuse solvents like used mineral spirits and lacquer thinner by storing them in containers until the solids settle to the bottom. Then you can pour off the clear solvent for reuse in work surface cleanup and preliminary brush washing.
If hazardous waste disposal isn't available in your area, the best thing to do is to let the product evaporate outside. However, do not mix oil-based finishes with sawdust, as this poses a risk of fire. Place the waste product outside in a shallow pan until it evaporates enough to become a dry paste that you can then dispose of in your regular trash.
The best defense against product hazards is knowledge of the ingredients and the health and safety precautions, all of which can be found on the packaging label. So read the label! For industrial products, federal law mandates that Material Safety Data Sheets (MSDS) be made available to workers who use the products. An MSDS is obtainable from the manufacturer for any product—consumer or industrial—whether it contains hazardous ingredients or not.
---
Safe Rag Disposal
Rags used to apply oil finishes can spontaneously combust if not handled correctly. Rags should be soaked in water, then spread or hung out to dry without wadding or folding them. When they're dry, you can dispose of them in the trash.
---