How-To
Tom McLaughlin's Arts and Crafts Finish
Thin layers of dye, glazes, and sealers create an aged Arts and Crafts look.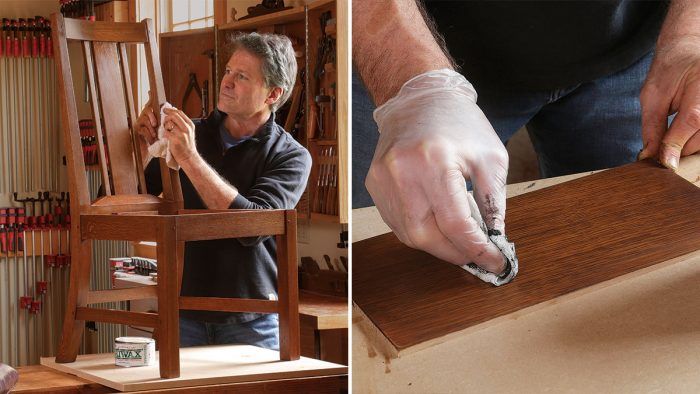 Synopsis: An aged Arts and Crafts finish is a thing of true beauty, but you don't have to wait for the passage of time to capture this kind of patina. You can come pretty close with thin layers of dye, glazes, and sealers, as Tom McLaughlin demonstrates.
---
It's hard to overstate how well an Arts and Crafts finish ages on white oak. With time and use, the rich browns, soft ambers, and dark highlights are all deepened and warmed. But you don't need the passage of decades to capture this patina. While it's admittedly nearly impossible to re-create the honest effects of time on a finish, it is possible to come surprisingly close to the same beauty and complexity.
A traditional method is to fume the oak with ammonia, but this can be hazardous to your health and give uneven results. So I take a different route, instead applying thin layers of dye, glazes, and sealers to create the signature depth and character. This article explains what products to use, when to use them, and in what proportions. While it's a time-tested method, it's still susceptible to the usual variables of finishing. So I recommend making a sample board to preview your results— another time-tested method. Because you'll be mixing and applying the finish in stages, checking each step on a sample board before using it on your actual piece of furniture is an easy way to ensure you get the finish you want.
Aniline dye sets the tone
Simulating the natural effects of time and use on white oak means starting from the bottom, beginning with a dye to darken the wood.
To prep the stock, sand to 220 grit. Then, since the dye is water-based, you'll need to raise the grain. For this, simply dampen the surface with a rag, no need to soak it. When the piece is dry, lightly sand it with fine-grit paper to remove the raised wood fibers.
Watch Tom build a Craftsman
dining chair in an episode of 
Classic Wooodworking
Next is a walnut-colored dye, which darkens the wood without leaving muddy pigments on the surface. I prefer a light concentration—1/2 teaspoon of dye powder stirred into 16 oz. of hot water—since it's easier to control. For a darker Craftsman finish, though, use 1 teaspoon of powder.
From Fine Woodworking #278
To view the entire article, please click the View PDF button below.
View PDF