How-To
A Pro's Secret to a Perfect Finish
Peter Gedrys explains when to use a grain filler to get a deep, lustrous look.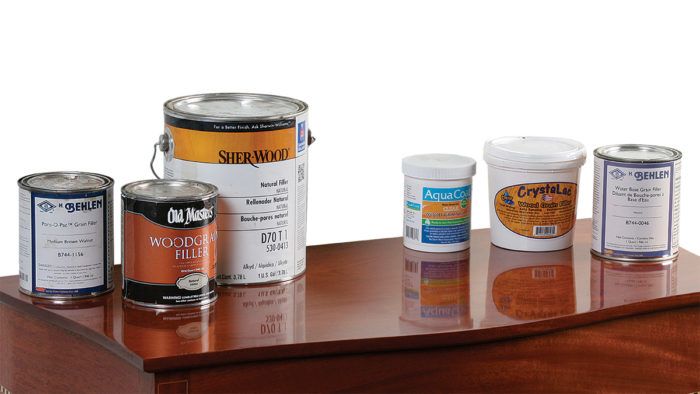 Synopsis: Ever wonder how the pros get that smooth, mirror finish on furniture? No doubt they have great technique, but they also have a secret weapon: commercial grain fillers. You can sand and apply a slurry of finish and sanding dust, which many woodworkers do, but the labor and time involved are hefty. A commercial oil- or water-based grain filler is the better option. Finishing pro Peter Gedrys explains when to use a grain filler, how to get the best results, and the pros and cons six of different brands of filler.
---
You may have admired the mirror finish on a piano or wondered how expert finishers get that dead-smooth clear coat on fine furniture. The secret isn't just in sanding or spraying, but also in an intermediate step called grain, or pore, filling. Unfortunately, this step often gets eliminated because it can be messy, a bit time-consuming, and at times troublesome. But this single process can help transform a finish from mundane to spectacular.
I'll show you when to use a grain filler, why it shouldn't be used only on tabletops, and how to get the best results with the least mess. I'll also describe the pros and cons of six commercial brands of filler.
Oil-based vs. water-based fillers
Grain fillers come in oil-based and water-based varieties. Water-based fillers don't smell as strong as oil types, tool cleanup is easier, and they dry faster. This last feature, though, can be a double-edged sword. I like the fact that oil-based fillers take a little longer to dry because I can work on a larger area at a time. For example, when filling a mahogany desktop, I may be able to do it in three sections with oil-based as opposed to six with a faster-drying, water-based type.
Some fillers come in wood tones while others are only available as "neutral" or "natural." Unless you want gray pores, these clear fillers must be colored. For oil-based fillers, you can use any solvent-compatible colorants such as artist's oil paints, dry pigments, or universal tinting colors (UTCs). For water-based fillers, you can use Mixol concentrates, UTCs, or artist's acrylics.
It is best to blend the color thoroughly with a small amount of filler and mineral spirits (or water for water-based fillers) and then add that to a batch of filler; it will incorporate much more easily than if you add the color directly to the batch. If you use dry pigments, mix them in well; otherwise, you may have a pocket of unmixed pigment smeared on the surface.
From Fine Woodworking #253
To view the entire article, please click the View PDF button below.
View PDF