Projects and Plans
Garry Bennett's Un-Trestle Table
Unconventional design is a portrait of the man.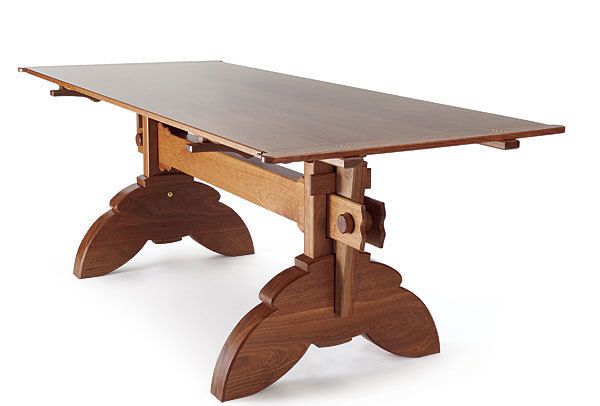 Synopsis: Garry Bennett has built many versions of his trestle table in materials ranging from wood to steel and aluminum, and together they offer a window into the furniture maker's fearlessness and imagination. They also show how an artist, once he or she finds a fruitful design, shakes it and works it over until every possibility has tumbled out. Bennett came at the trestle form the same way he came at the craft of woodworking, by ignoring its rules and standing it on its head. He traded in the usual thick top for a paper-thin one, setting it on a massive base. The result is an artist's playground, with curves and joinery that invite interpretation.
From Fine Woodworking #219
Watch how Garry Knox Bennet's Trestle Table came together in this video blog series.
Garry Bennett has a few complaints. One is people using his middle name, Knox, which stuck somehow despite his best efforts. Another is people who know him only for his "Nail Cabinet," a fine case piece with a nail driven into it, which appeared on the back cover of FWW #24 and drew a small avalanche of letters, both pro and con. All I could get out of him on the subject was, "I planned to make a precious thing less precious."
But what he seems most concerned about is the shrinking numbers of fellow studio furniture makers, those who attempt to make art and work purely on spec. "My kind of guys are dying off," he says. To understand how Bennett has avoided commissions and been left alone to follow his muse, you have to know his story. Trained at California College of Arts and Crafts from 1958 to 1962, he worked as a sculptor, painter, and jewelry maker through the '60s and '70s. In 1967, he created a small line of "roach clips" on a whim, and sent samples to "head shops" (remember those?) around the country, trusting owners to return the proceeds or unsold product. Within weeks, he had a pile of cash and a stack of orders. Sometime later, he began to stamp out peace signs in his 70-man shop in Oakland, Calif. As the first business to mass-produce each of these hippie essentials, he made a lot of money. So when he turned his attention to furniture in the mid-'70s, Bennett had some advantages: a big nest egg, art training, metalworking skills, and plenty of space to work in.
From the beginning, Bennett's funky, mixed-media pieces were a big hit—a rare thing in the studio-furniture world. For 20 years, everything sold out. At 76, you can still find him in his studio every day, creating usable art, lubricating his muse with gin, and entertaining his artist friends.
Bennett's best piece? Bennett's creativity extends from jewelry, where he made his start, to lighting and furniture in an ever-changing parade of materials and modes. But his trestle table hews closest to "fine" woodworking, and it is the piece he has repeated most often. It is also the one project he has taught at workshops.
For the full article, download the PDF below:
View PDF