Projects and Plans
Designing in Three Dimensions
Yuri Kobayashi used 3-D modeling to develop the design of her eye-catching table.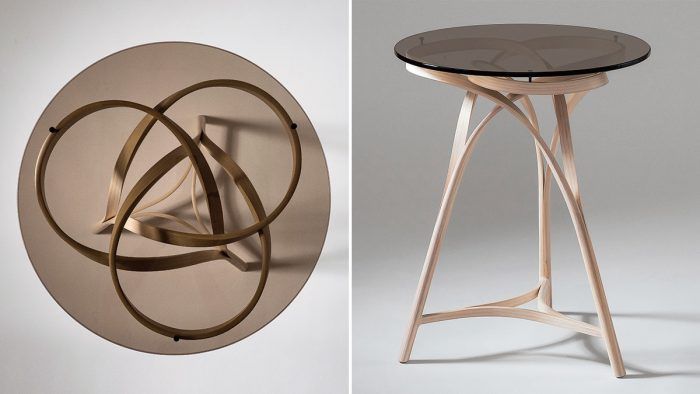 Synopsis:  When working on furniture designs, Yuri Kobayashi eschews the sketchbook or computer in favor of modeling in three dimensions. When a small model develops into an idea for furniture, she makes a full-scale mockup. This 3-D workflow allows her creativity to thrive.
---
I am a raw and low-tech woodworker. Even knowing that doing everything by hand can take more time, I enjoy designing and making with my hands, rather than using the aid of a computer or other technologies.
When working on designs for a functional piece of furniture, I don't use CAD or even a sketchbook and pencil. What I picture in my head is not translated well on the two-dimensional field. So I work in three dimensions, shaping or bending wood or wire to make small models. They allow me to illustrate what I see in my mind and better define the piece. This is my version of 3-D drawing, and it provides me with plenty of information.
At the model stage, I imagine objects freely and try not to think of joinery, process, or the nature of the material. Later, when I have an idea I want to pursue, I make a quick full-scale mock-up out of cardboard, plywood, or poplar, representing the whole piece or part of it, to seek out techniques, joinery processes, and problems.
| | |
| --- | --- |
| Bend in the bag. After steaming, Kobayashi leaves the wood in a poly tubing steam bag so the wood stays pliable longer. She wraps the wood around the form, clamping as she goes. | Twist and clamp. A shopmade torque wrench helps grab and twist the length of wood that forms the legs. Stops in the bending form and clamps hold the loop in place while it dries. |
I began noticing a diversity of manufactured objects as well as things in nature that are made up of curved lines and surfaces. From boats and wine barrels to seed pods and plankton, so many objects and life forms are flawlessly designed and visually appealing. Inspired by them, I focused on manipulating clay and shaping, laminating, and bending wood to familiarize myself with curvatures. I was particularly drawn to the possibilities of steam-bending techniques.I have an architectural background, and my early designs in wood relied heavily on grids and geometry. A straight line would always be the first thing to appear, one followed by another, and then another. This habit became so apparent that halfway through my graduate study with Wendy Maruyama, she encouraged me to explore more curved shapes and forms.
Once in a while, I would return to a furniture maker's mind and contemplate the what ifs. That is when I thought of a basic three-legged table. To make a model, I joined three looped parts with zip ties and made the triangular stretcher system quickly out of three thin strips of wood. Bending and twisting the thicker and longer material for the legs in the real piece was challenging. In fact, my first three trials failed. By tweaking my bending form and making a wooden wrench of sorts to hold the material and bend it, I was able to succeed. With moderate shaping, I refined the form further. Luckily, my play and experimentation with my building block parts bore fruit.The form of this table, Triumvirate, came out while I was working on an installation project for a solo exhibit. For that project I aimed to use one simple bent form repeatedly to liven up the space. The looping form I used had been reoccurring in my 3-D drawing sessions and it served as a type of building block—first as a single shape, then as a repeated shape, and finally in this table. Discovering different ways to join or weave the looped forms together to create a variety of curved lines and volumes filled me with amusement. I explored winding lines, circles, spheres, and other forms.
I gain such delight and benefit through my version of 3-D drawing. It is a process that connects my hand and brain without hindrance. If I had been holding a pencil to paper or flipping pages of furniture design books to look for ideas, I would not have come up with this table design.
From Fine Woodworking #278