Projects and Plans
An Arts and Crafts Library Table
A nontraditional approach to building a desk with drawers.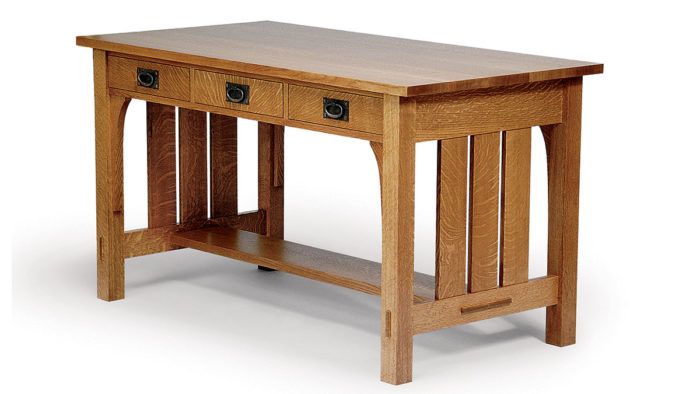 Synopsis: This author builds tables with drawers faster and stronger by building frames to go over and under the drawers and attaching them to pre-assembled ends. He advises that best boards go on top, and he glues those up first so he knows what he's working toward. Then he assembles the ends, attaches the frames and shelf and installs drawer glides. The article offers detailed instructions on the table end glue-up, the shelf and drawer assembly, and the installation of drawer blocking and glides.
I've never seen the virtues of building a table with drawers in the traditional way—with a double-tenoned stretcher below the drawer and a dovetailed top rail. It just seems like unnecessary work. I've developed methods for building a table with drawers that are faster and, to my mind, stronger. It's the same approach I use when building a chest of drawers. I build frames to go over and under the drawers, then simply attach them to preassembled ends. This approach makes the entire project more manageable and all but guarantees a smooth and square glue-up.
This library table is adapted from various Stickley catalogs from the turn of the 20th century. It would work well as a writing desk or as a reading table. My approach to the construction of this traditional Arts and Crafts piece is straightforward. I used quartersawn stock, hand-hammered hardware and a slightly lighter finish than is customary for this style.
The Best Boards Go On Top
For this project, I ordered 100 bd. ft. of oak, then riffled through to choose boards for specific parts. Once all of the boards had been surfaced, I designated the best of the lot for the tabletop, which I typically glue up first so that I know what I'm working toward. I also sorted all of the other lumber, denoted which pieces will be used where and milled them to their finished thickness.
The less-attractive lumber was designated for interior parts, such as the two frames. These frames are identical to face frames on an ordinary plywood cabinet, but they have a very different use. Just as on a chest of drawers, the frames span the two ends, and drawers are housed between them. I built the frames using biscuit joinery, but mortise-and-tenon joinery would work, too. Once installed, the frames will be joined in so many ways that the chance of their failing is negligible, if not impossible. I left the frames slightly oversized to be squared up later.
From Fine Woodworking #149
For the full article, download the PDF below:
View PDF