Projects and Plans
A Table for 2, 4, or 6
Gate-leg design expands from small to large in a jiffy.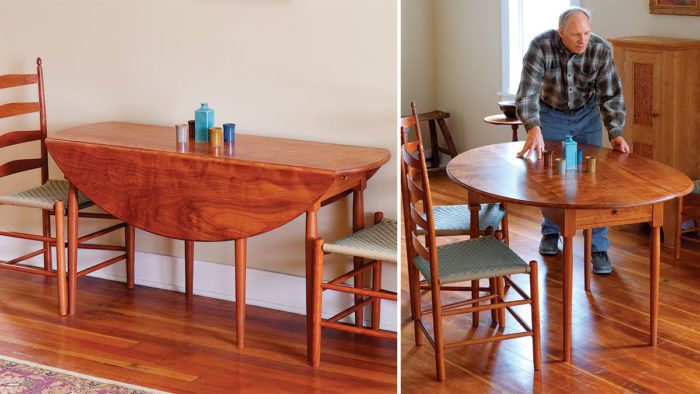 Synopsis: This oval table is so versatile. It can sit against the wall and serve as a sideboard or serving table. Pulled out from the wall, it seats two, four, or six depending on how it is configured. The base is standard construction: side aprons joined to the legs with mortise-and-tenons, and two stretchers at each end that create an opening for a drawer. The gate legs are part of a second apron on each side. The gate-leg apron has three parts, but at its heart are two pieces joined by a finger joint modified so that one half can swing open while the other half stays anchored to the table's base.
With their fold-down leaves, gate-leg tables are wonderfully versatile, making them perfect for a small home or apartment. With the leaves down, the table can be pushed against the wall to be used as a buffet or just kept out of the way, and it works as a nice table for two. Raise a leaf and swing out a gate leg, and the table comfortably seats four. Raise the second leaf and pivot the other gate leg to support it, and the table now seats six with ease. this versatility, combined with the warmth of cherry and Shaker design, brings beauty to any room.
For the most part, the base of a gate-leg table is nothing strange. this one has four legs, side aprons joined to the legs with mortise-and-tenons, and a long drawer that can be accessed from each end. All of this can be constructed separately from the gate-leg assemblies on each side, which consist of a leg and a separate apron that swings on a wooden hinge. This sounds complicated, but it's not so tough.
The oval top has three pieces. Attached to the base, the center is sandwiched between two leaves that raise and lower on hinges. A rule joint between them looks clean and attractive whether the leaf is up or down. I make the joint with two router bits, and rout the hinge mortises with a jig that takes the hassle out of layout and ensures that the hinges don't bind.
There's no doubt that this gate-leg table is a mechanical marvel, but don't be intimidated. With the techniques I'll demonstrate, you're sure to make one that works as beautifully as it looks. The gate leg swings on a wooden hinge.
For the full article, download the PDF below.
View PDF