A Butterfly Expansion Table
A hinged self-storing leaf hides under the tabletop until it's needed.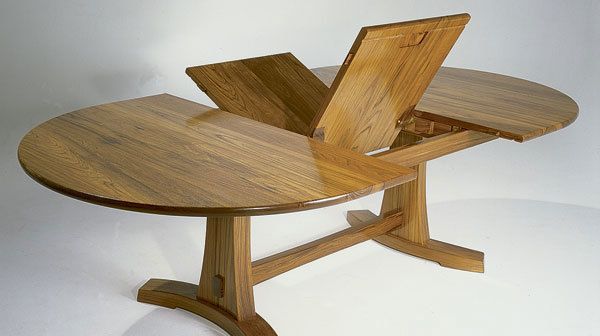 In a butterfly-leaf table, a hinged leaf stored under the top pivots up and unfolds to extend the table. This leaf-storage system eliminates the need to handle the heavy, bulky leaves normally used in an extension table and also avoids the possibility that forgotten leaves will be left behind in the excitement of loading up the moving van. Just this past year, I've had two jobs making matching table leaves to replace ones that had been lost. So when commissioned to design and build an extension table, I decided on the butterfly-leaf table for its practicality, aesthetics and absolute ease of operation.
The butterfly mechanism is not as complicated as it may appear, and once the basic geometry is understood, the mechanism can be built easily.
Fig. 1: Butterfly-leaf table construction. Click to enlarge.
The hinged-leaf sections counterbalance each other, as shown in the photo at the top of the…
Start your 14-day FREE trial to continue reading this story.