Projects and Plans
Transforming tray table
A removable parquetry tray transforms a simple, three-legged table.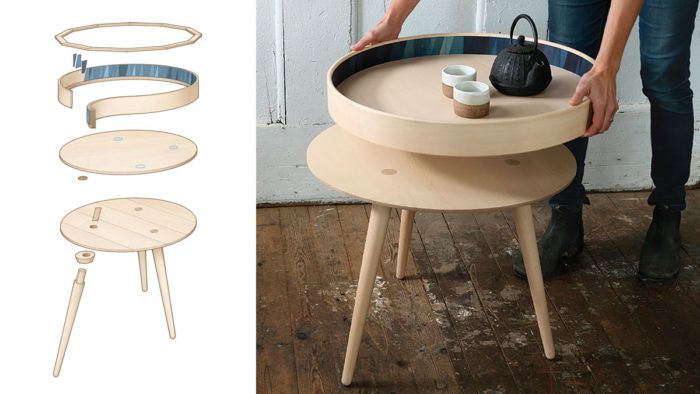 Synopsis: A simple, three-legged table takes on tons of personality when paired with a removable tray embellished with indigo-dyed parquetry. The tray is made by laminating shopsawn veneers, and designer Heide Martin applies hardwood edging to conceal the seams and protect the parquetry. With its simple design and underbeveled edge, the table allows the tray to take center stage. Turned, tapered splayed legs are made more stable using applied collars and attach to the top with wedged through-tenons.
---
This tray table was built at the Center for Furniture Craftsmanship in Maine during my Nine-month Comprehensive training, under the guidance of lead instructor Aled Lewis and coinstructor Bruce Beeken. While the table project as a whole is on the complex side, it can be built in stages or adjusted for simplicity. You could build the table or tray as solo pieces, or adapt the tray design to feature undyed parquetry panels or no parquetry at all.
The table itself is stout and straightforward in its construction, but the removable tray gives the piece personality, utility, and complexity. The hoop of the tray is built by laminating shopsawn veneers, and an applied edging conceals the seams of the lamination while also protecting the edge of the dyed parquetry.
The tray's plywood bottom is glued in from below, fitted into a rabbet in the hoop. The rabbet overhangs the bottom and registers the tray on the tabletop.
Begin With The Tabletop
To build the top, grain-match your boards and glue up an oversize panel. I used five boards for this top, making sure the leg through-tenons would land within the boards, not on the gluelines.
Video: Simple Circle-Cutting Jig
A quick-to-make jig for cutting flawless
circles on the bandsaw
I cut the blank to a circle using a router method that gives clean, repeatable results. Start by making a circular template from  plywood or MDF. Using a jigsaw, roughcut the circle on both the template and the maple top. Save the offcuts for the next step, beveling the tabletop. Use a pivotpoint router jig to clean up the cut on your template.
From Fine Woodworking #276
To view the entire article, please click the View PDF button below.
More on FineWoodworking.com:
View PDF