How-To
Workbench Helpers: Tips on Holding Work
Holdfasts and hand screws make your workbench more versatile.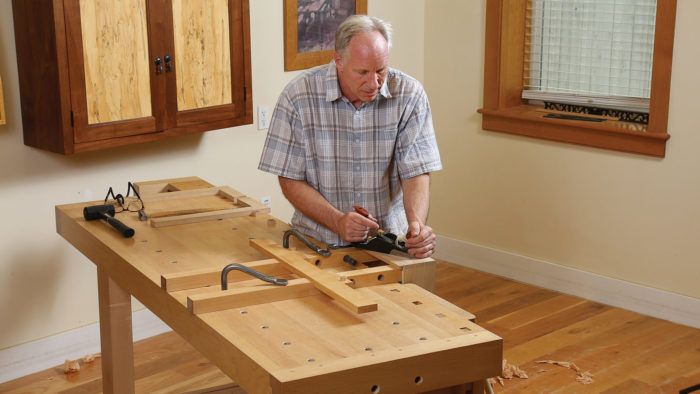 Synopsis: Vises are a fundamental tool for holding work securely at the bench, but they can't do everything. These techniques from Chris Gochnour incorporate holdfasts and hand screws to extend the grip of your vise and enable it to hold wide or long stock without racking. Planing drawers is made easier through the use of two simple workholding jigs.
---
Every piece of furniture I make begins at my workbench and ends there, too. It's where I lay out, cut, and fit joinery, plane surfaces, and glue it all together. At the end of the project, it's where I do things like break edges and look for small defects in the surface. Because the bench is such an important tool, it's critical that it be set up for effective and efficient work. This means it must be able to hold work reliably and securely, while still being flexible enough to get a handle on any part you throw its way.
A bench's ability to hold work securely begins with its vises, but it shouldn't be limited by them. When my front and tail vises are unable to get an adequate grip on a workpiece, I turn to other strategies. Most of them involve a holdfast or two. Holdfasts are quick to use, apply plenty of clamping pressure, and can be located just about anywhere on a bench where you can drill a hole. I'll show you how I use them to supplement my vises, as well as a few other techniques that expand my bench's workholding abilities.
Make your vises work better
My bench has a front vise with a wooden jaw, and a traditional tail vise. Both are great, but they have limitations. Luckily, there are simple ways to improve their versatility and effectiveness.
The front vise has a single screw in the center. Almost any time a workpiece is held vertically it is placed to one side of the screw, which causes the jaw to rack and weakens the vise's grip. To prevent racking, make a wedge that slides into the other side of the vise. Once the wedge's thickness matches the workpiece's thickness, you can tighten the vise without racking.
From Fine Woodworking #280
To view the entire article, please click the View PDF button below.
View PDF