Projects and Plans
Gentleman's Tool Chest
An avid tool collector builds a chest for his favorite antique tools based on The Gent's tool chest, originally sold by Hammacher Schlemmer.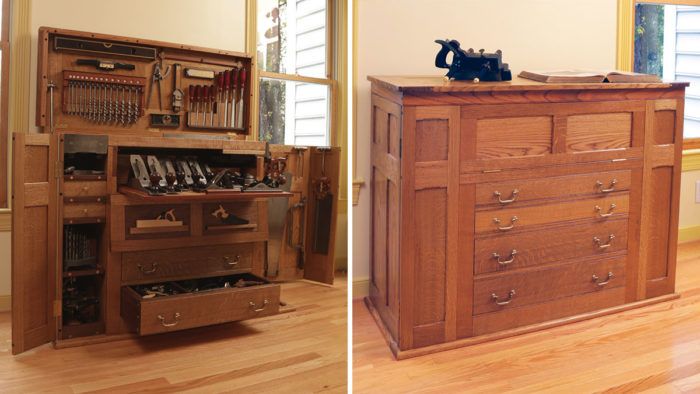 Synopsis: The Gent's tool chest, originally sold by Hammacher Schlemmer and designed by Theodore Doegler, looks like a handsome chest of drawers when closed. When open, it reveals specialized storage for hundreds of tools, plus a workbench and two vises. Rick Long built one like it to showcase his collection of antique tools, gathered over a lifetime of woodworking.
---
Like most woodworkers, hobbyist to professional, I've spent almost all of my shop time making pieces for others over the years. But a few years ago, after three decades as a woodshop teacher outside Richmond, Va., and having recently become an empty nester with newfound free time, I decided to create a piece just for me, to represent my passion for collecting antique woodworking tools.
Most of us remember an issue of Fine Woodworking from July/August 1988 when the back cover of the magazine featured an awe-inspiring object: H.O. Studley's tool chest. Soon afterward the Studley tool chest poster could be found adorning many shop walls, serving as inspiration to unmatched craftsmanship. What could I do that would inspire me in a similar way?
I didn't know. Then I went up to Pennsylvania for a Brown's Tool Auction in 2012, and there it was, the answer to my quest: a vintage Hammacher Schlemmer Gentleman's Combination Bench and Tool Cabinet. Wow, it was cool. In all my travels as a tool collector I'd never seen one in person.
The Gent's chest, designed by Theodore Doegler and introduced at the turn of the 20th century, was intended for hobbyists in their city apartments or summer houses. Offered in oak or mahogany, it was built to look, when closed, like a handsome chest of drawers. But open it and you found specialized storage for hundreds of tools—along with a workbench with two vises! You could buy the chest empty or filled with tools.
Hammacher, Schlemmer & Co., founded in 1848, was a purveyor of high-quality tools and hardware in New York City. By the early 1900s, they were the largest tool and hardware merchant on the East Coast, and their catalog was the most extensive in the country. Their New York showroom was the first to sell electric lights, telephones, horseless carriages, electric toasters, toothbrushes, and answering machines. If there was a new gadget or gizmo to be sold, Hammacher Schlemmer would be the first to offer it.
After examining the gent's chest up close, I couldn't get it out of my mind. En route home from the auction, I decided to build a chest like it and fit it with some of my favorite antique tools.
A slippery slope strewn with tools
My passion for tools started innocently enough. One Sunday in the fall of 1984, on a drive after church, my wife and I stopped at a flea market. I bought three old tools for $10: a level, a molding plane, and a try square. Back at our apartment, I cleaned and restored them over the next few days. I got a real rush from the restoration and proudly displayed the tools in our empty second bedroom. The brassbound level jumped. The square, with three brass diamonds on its rosewood body, was art in my eyes. I sharpened the molding plane blade and used it to make my first side bead profile. I was hooked, already craving more yard sales and flea markets. Before long, it was time for a house and a garage with plenty of space for tools. Thirty-five years later, the cravings haven't subsided. I confess I am a toolaholic with more than 10,000 antique tools in my collection.
From Fine Woodworking #279
To view the entire article, please click the View PDF button below.
---
View PDF