Projects and Plans
Working-Class Router Table
This easy-to-build table is about results, not appearances.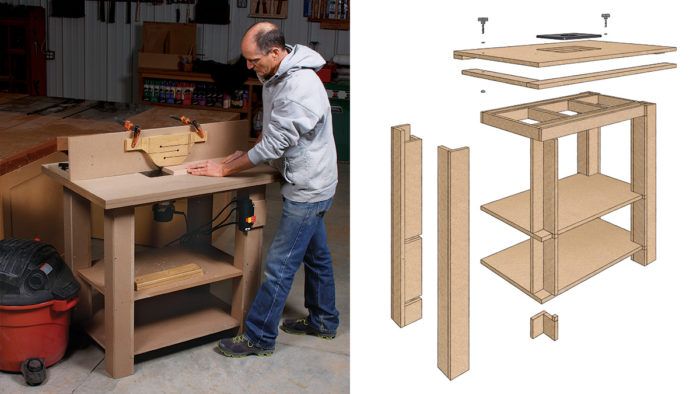 Synopsis: With a good router table, a woodworker can cut joinery, raise panels, produce moldings, and even edge-joint boards. This one, built by woodworking teacher Marc Adams, has been tested under fire at his school for seven years and has remained accurate and strong. It's also inexpensive, because it is built entirely of medium-density fiberboard (MDF). The MDF makes it heavy, durable, and stable, with a slick surface that's perfect for routing. The base is solid, with two big shelves for bits and accessories, and an easy-access switch that turns on the router and a shop vacuum at the same time. The tall fence is perfect for attaching featherboards and supporting vertical work. Adams like this table so much, he's built seven more of them for his students to use.
---
A router table is indispensable for a wide range of tasks. Armed with a big, solid fence, it can cut joinery, raise panels, produce moldings, and even edge-joint boards. Take off the fence and the table can be used for pattern routing. I designed and built this router table years go, when I needed something fast and simple. I always figured I'd replace it some day with something nicer. But nearly 30 years later, the original table is still in use at my school, and we have built seven more just like it. That's because the materials are affordable, the joinery is straightforward, the table is accurate, and it has all the features we require.
First of all, it is large enough for all sorts of work and has a strong bracing underneath so it won't sag. The base is heavy and solid, with two big shelves for storing bits and accessories. And a big switch, mounted on a front leg, turns on the router and a shop vacuum at the same time.
But my favorite feature is the fence, which is tall, square, and strong, with a box built in for attaching a shop-vac hose for dust collection.
Materials are affordable
The key to this table's low price tag—around $200 for everything but the router—is MDF (medium-density fiberboard). Every part and piece is made from it. MDF is flat, durable, and somewhat heavy, which makes the table more stable. Its slick, hard surface is especially good for the tabletop; put a coat of wax on it and friction will be practically nonexistent. You'll need roughly 1-1/2 (4×8) sheets of 3/4-in.-thick material for this project.
How you attach the router is up to you. There are two main options: a router lift, with a router motor in it; or a simple table-insert plate with a router screwed to it. Whatever you choose, the plate should be 3/8 in. to 1/2 in. thick and made from a material like aluminum or phenolic that won't sag from the weight of a big router. I went with the insert plate, attaching a router I already own, a more affordable approach than buying a lift.
You'll also need a simple plastic dust port designed for router fences, and some 1/4–20 threaded knobs and T-nuts for attaching the fence. If you don't have a tool-triggered shop vacuum, I also recommend a double switch made for router tables, like the one we used (Kreg Multi-Purpose router Table Switch, $35).
Start with the base
The key to the base is how the legs are built. The fact that they are hollow, square columns allows you to chop up the inner sections to create notches for the shelves and support the internal bracing that prevents the top from sagging.
From Fine Woodworking #244
To view the entire article, please click the View PDF button below.
View PDF