Shop Tips
Smart Shop Storage
This roomful of ideas for organizing your space will help keep clutter at bay.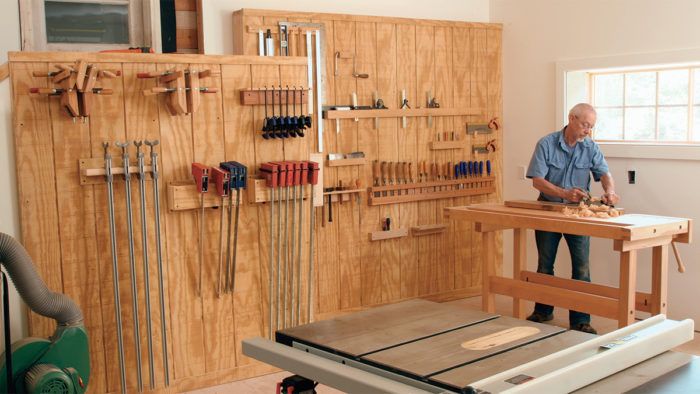 Synopsis: Is your workshop awash in tools, lumber, and clutter you've collected over the years? Help keep it at bay and have a more organized shop with this collection of storage ideas and tips from John White and FWW readers. A strong and handy lumber rack, wall storage for frequently used hand tools, clamps, and hardware, and fixed and mobile cabinets are among the devices he uses. Learn how to build and install them quickly and efficiently.
---
By the time you're into woodworking seriously enough to set up your own shop, several things may have already happened, or will happen soon.
You will search catalogs, yard sales, and the Internet for tools large and small that you need, think you need, or just plain want—and you will buy them. You will bring home great-looking lumber because it is beautiful, even though you have no immediate plans for it. And someone, possibly a friend, will tell you that "you can never have too many clamps," and you will believe that person.
Each of these things will happen repeatedly, and your space, no matter how voluminous, will soon be a cluttered mess.
This collection of my favorite storage ideas from shops I've set up, and from Fine Woodworking's readers, will help you keep clutter at bay. To show you how the cabinets, racks, and holders all work together, we built them all into the garage of Fine Homebuilding's Project House, where they will get good use.
Build to fit
I especially like base cabinets in the shop because they provide horizontal work surfaces along with plenty of storage. For the project house shop, I made a set of fixed and rolling cabinets (two each) that occupy most of a long wall. The fixed units create 20 square feet of countertop in addition to nearly 50 cubic feet of storage in the spaces underneath. The top rank of shallow drawers works well for smaller items, while the deeper drawers underneath can hold routers, belt sanders, biscuit joiners, and other large tools. One open cabinet provides space for a shop vacuum, and an opening in the MDF top makes it easy to connect to any tool you roll into place. A backsplash prevents anything from falling behind the cabinet.
I build shop furniture like this from 3/4-in. Baltic- or Russian-birch multi-ply. You probably won't find this at your local home center, but it's worth seeking out at a plywood or lumber dealer because it is rigid, stable, and without voids. The cabinets are sized to be cut efficiently from standard 4×8 sheets. The boxes can be assembled easily with coarse-thread drywall screws. Be sure to drill pilot and clearance holes for each screw or you'll split the plywood and lose strength.
From Fine Woodworking #230
To view the entire article, please click the View PDF button below.
View PDF