Shop Tips
A Smarter Planer Sled for Flattening Wide Stock
Clamp-on saw guides hold the stock while wedges add support.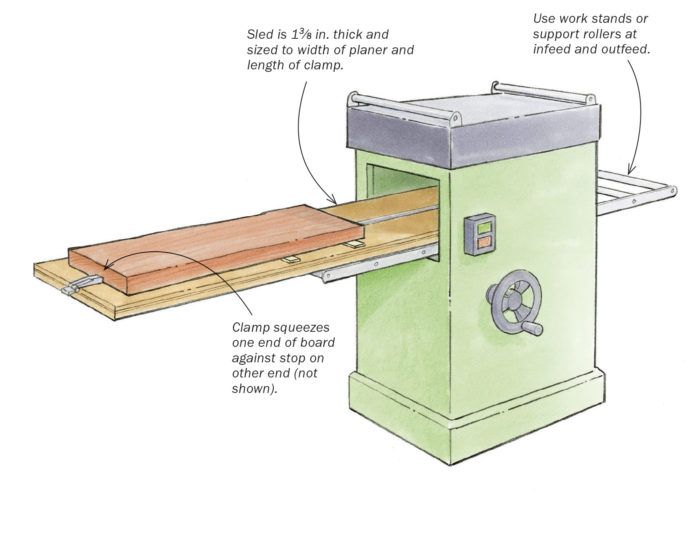 My jointer is only 6 in. wide, and I often have to joint wider boards than that. To flatten those boards with my big planer, I use a planer sled with a long clamp-on saw guide embedded into it to hold the board. With the board clamped at its ends, I slip wedges under the edges to even out the high spots, which maximizes my yield. The wedges stay put with hand pressure only and keep the board rock-steady on the sled. The system works wonderfully.
The clamp is one of those clamp-on straightedges used to guide a circular saw or router. I chose the 50-in. length (available online for $35), which works for most boards I mill.
To make the top of the sled just flush with the clamp bar or slightly higher, so the low-profile clamps grab as much of the board as possible, I screwed it to a 3⁄4-in. MDF base and then added more MDF on the sides, shimming them up with thin plywood to just the right height. The resulting sandwich is stiff and stable. I also had to trim the handle of the clamp so that it wouldn't interfere with the planing operation, but it is still easy to operate that way.
For the infrequent occasion when a board is too twisted to allow good clamp purchase, I just handplane the high spots a bit to let the board sit lower in the clamp.
—Lary Shaffer, Scarborough, Maine
More from FineWoodworking.com: