How-To
Master the Mortiser
Simple tips for sharpening, setup, and cutting sequence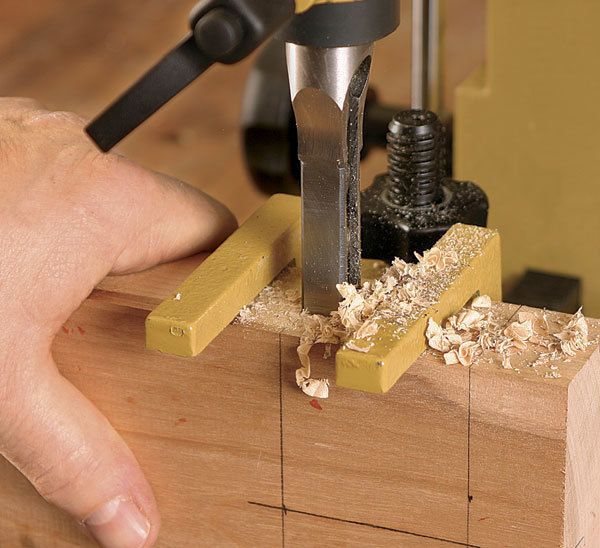 Synopsis: They can cut mortises of almost any length quickly and accurately, but hollow-chisel mortisers are among the most finicky of power tools. When not properly set up and used, this is a machine that can plague you with jammed chips, overheated bit and chisel tips, burnt workpieces, and broken parts. But once you learn the right way to set up your mortiser, you'll find this aspect of joinery turns effortless. Fine Woodworking contributing editor Roland Johnson shares his tips, starting with the proper way to sharpen and install the chisel and bit, and ending with advice on cutting expert mortises.
A mortiser, also called a hollow-chisel mortiser or mortising machine, cuts mortises remarkably quickly and accurately. Indeed, this machine can cut a typical leg-to-apron mortise in well under a minute. Benchtop models are most common, although larger, freestanding machines also are available.
On the downside, mortisers define the word finicky. If yours isn't set up and used correctly, you'll wonder why you bought one.
Fortunately, mortiser-induced headaches can be treated with relative ease. Simply follow the steps outlined here, and you'll find that quick, clean, and accurate mortises become the norm, not the exception.
A sharp chisel and bit are a must
A mortiser won't work effectively when the bit and chisel are dull, so keep both parts sharpened. No need for a lot of tools, just a chainsaw file, a round and a flat slip stone, a little sandpaper, an abrasive pad, and some honing oil. Don't expect a brand-new bit and chisel to be adequately sharp. Almost all I've seen needed extra attention out of the box.
Hone the outside faces of the chisel—I begin sharpening by honing the four outside faces of the chisel. To ensure an adequately flat honing surface, I use spray adhesive to mount P400- and P800-grit sandpaper to a granite plate. A piece of plate glass glued to 3⁄4-in.-thick hardwood plywood also makes a good flat surface.
To reduce clogging, I spend time tuning up the bore. The smoother the bore, the easier it is for chips to slide up the auger bit. I use a chainsaw file to remove any in ternal burrs or machining grooves. A small, round, tapered slip stone works well for cleaning up the ejection slot.
Hone the bevels—A round slip stone is all that's needed to hone the bevels. Keep in mind that not all mortiser chisels have the same bevel angle. Clico, a British manufacturer, and Asian and Japanese sourced chisels use a 60° bevel angle, while Forest City, a U.S. maker, uses a 45° bevel.
With the shank of the chisel secured in a vise, place the stone flat against a bevel and work it back and forth with a light touch. Be sure to wet the stone first with a few drops of honing oil. To avoid creating a groove, keep the stone moving from side to side along the bevel and don't stay in one spot for more than a few strokes. Try to remove about the same amount of material from each bevel.
From Fine Woodworking #185
For the full article, download the PDF below:
View PDF