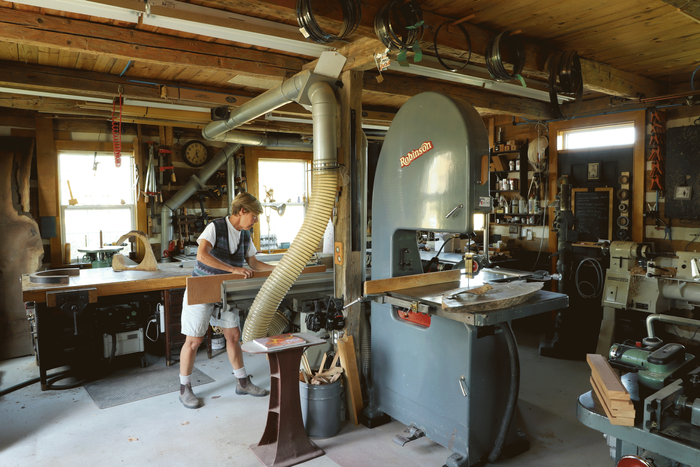 Fine Woodworking Project Guides
Shop Machines
From setup to safe use, this guide has you covered.
The use of machines can increase the speed and efficiency of your woodworking, but only if you understand how to use these valuable tools safely. No worries. Shop Machines provides all the information you need to start your journey. You'll learn how to set up, tune up, and use all of the primary machines in a woodworking shop: tablesaws, jointers, planers, bandsaws, drill presses, and mortisers. In addition to the fundamental, safe use of each of those machines, this guide includes invaluable information on setting up shop—from layout to dust collection—as well as pro advice on which tools to buy first, with plenty of tips on how to save money.
An Introduction to Shop Machines

What are the essential machines for your shop? Opinions vary, and in this introductory chapter pro woodworkers weigh in with their top choices. You'll also find advice on buying used machines, general maintenance and setup, and using machines safely. Machines are at the heart of most workshops and getting the layout right is critical, whether your shop is in a small, one-car garage or a roomy dedicated space. In addition to advice on machine layout, this chapter also provides all you need to know about dust collection and noise abatement in your shop.

Bandsaws

For many woodworkers, the bandsaw is the number-one machine in the shop, and with good reason. Bandsaws excel at two things: cutting curves and resawing thick planks into thinner ones, but they can also be used for straight and angled rip cuts. As with any shop machine, setup is key, and this chapter includes trustworthy advice on getting peak performance from your bandsaw. You'll also find pro tips on choosing bandsaw blades and learn how to make a variety of jigs that will increase the versatility, accuracy, and safety of your bandsaw.

Tablesaws

The tablesaw is a versatile, powerful tool for woodworking. Not only does it rip and crosscut lumber to size, but it's also invaluable for cutting all types of joinery quickly and accurately, from dovetails to tenons and dadoes. To get the most out of the tool, however, it's important to learn how to set up the saw effectively and understand completely how to use it safely. This chapter covers it all, from tablesaw setup to safety to blades, giving you the information and confidence to use this powerful tool in your workshop.

Jointers and Planers

The jointer and planer work in tandem to flatten and square up rough lumber. They do more than just mill wood, though. The jointer can be used for tapering, chamfering, and beveling, and many can be set up to cut rabbets. The planer's key role is to bring workpieces close to finished thickness. Plus, a planer can be used to flatten boards that are too wide for your jointer. These tools demand accuracy in their setup and a keen understanding of how to use them safely. This chapter covers all of that, and includes valuable tips and tricks for getting the most out of a jointer or planer.

Drill Presses and Mortisers

When it comes to drilling and mortising, it's hard to beat the quiet accuracy of the drill press and hollow-chisel mortiser. A floor-standing or benchtop drill press brings power, versatility, and accuracy to your drilling, putting even the best handheld drill to shame. The mortiser is a tool that will speed up your efforts at cutting mortises, making the job accurate and repeatable from part to part. This chapter is full of advice and tips to help you understand and use these shop mainstays effectively.

Machine Jigs and Fixtures

Woodworkers design and build jigs to help their machines and power tools do specific jobs more accurately, efficiently, and safely. This chapter features dozens of expertly designed, time-tested jigs and fixtures for every machine in your shop, from tablesaw sleds to router jigs and so much more.