Tools & Materials
7 planes you may not know about
Al Breed demonstrates his favorite specialty planes for hand-tool woodworking.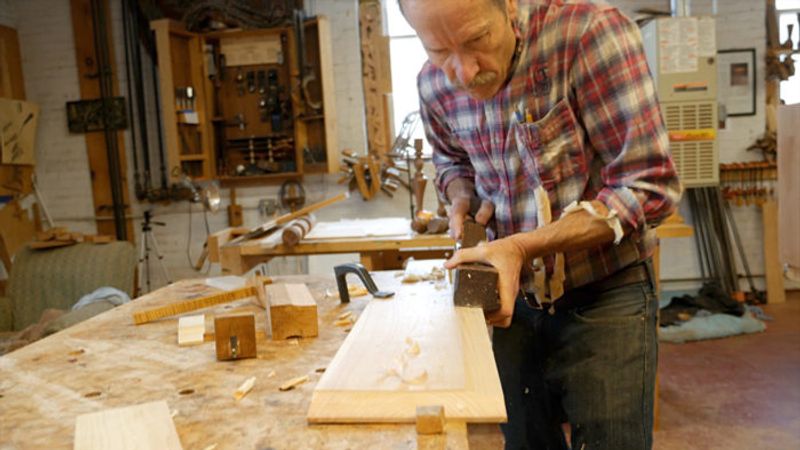 To Al Breed, planes are the most complex hand tools in the shop, there being numerous gremlins in each one that can prevent them from working as they should. Once these are exorcised, though, the handplane is also the most rewarding of tools to use, and over the decades he's amassed quite a few. In this video, Al shows you six of his favorites in action, and gives you the personal back story of each one.
Panel-raising plane
The fence on Al's antique panel-raising plane, set with two screws, controls the width of the border the plane cuts around a panel. Before cutting cross-grain, Al scribes the edge of the border with a cutting gauge.
Toothing plane

The toothing plane is used to texture a solid-wood substrate to prepare it for hammer veneering. After making a series of passes on one diagonal axis, Al does another series skewed the other way. With its nearly vertical bedding angle, the toothing plane produces more of a scraping than a slicing action. The toothed iron is sharpened like a normal one on the stone.
Outrigger Coving Plane

A plane Al made himself, this one with an outrigger fence, allowed him to plow channels into the stiles of a reproduction 17th-century chest.
Stanley 45 Combination Plane

The Stanley 45 combination plane, with its slew of different cutters, was famously intended to take the place of a whole rack of specialty planes. Ironically, Al uses his for just one task: plowing grooves for drawer bottoms.
Veritas Skew Rabbet Plane

One of the few new planes in Al's possession, the Veritas skew rabbet gets high marks from him for its precise adjustability.
Skunk Plane

Al uses his Kunz skunk plane for flattening areas hard to reach with a larger plane. The skunk-tail handle makes it a bit easier to maneuver.
Chippendale Leg Molding Plane
Al built this plane to re-create the legs of a Chippendale table. To shape the contours on the plane's sole, he roughed out the shape on the tablesaw, then refined it with a scratch stock he ground from an old sawblade.
Specialty handplanes: Al Breed's Best
Seven favorite handplanes from a lifetime collection
By Allan Breed #270–Sep/Oct 2018 Issue