Projects and Plans
How to make a wooden spoon
A delight to make, they're also a lasting pleasure to use.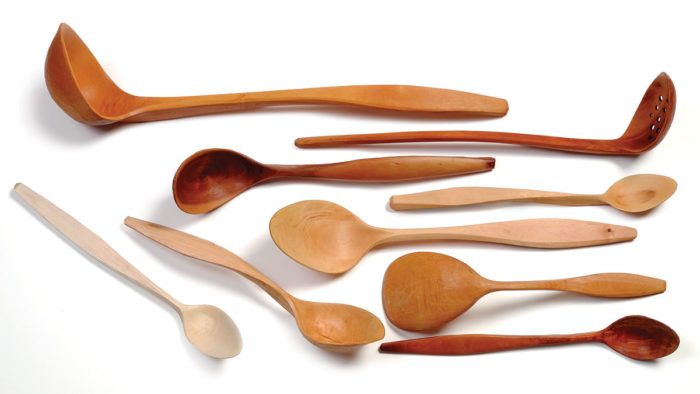 Synopsis: Take a few hours away from complicated projects and carve a spoon. It's a great way to brush up on hand skills, use green wood, and create gifts that will win appreciation from any home cook. Chairmaker Peter Galbert forms his spoons with a few simple tools: hatchet, drawknife, sloyd knife, hooked knife. He prefers to get the wood from the crook in a tree where a branch grew from the trunk. At this intersection, the fibers naturally bend, so you can make a spoon that curves at the neck yet has long grain running from the top of the handle to the tip of the bowl.
---
As a chairmaker, I enjoy complex projects involving many parts and many skills. But on occasion I find myself just wanting to let a walk in the woods and a quiet task take my day, and I make a spoon. Making spoons is delightful work, and it's also an excellent way to refine your hand skills. For a very limited tool investment, spoon carving offers an education in woodworking that lays the foundation for a deep understanding of the structure of wood and how it can be worked, all while making something both beautiful and functional. From the humble pot stirrer to elaborate ladles, there's no end to the possible variations, and the quick return on your effort encourages exploration. Reaching for a spoon that you carved yourself adds a great deal of pleasure to cooking, serving, or eating—and giving one away is a surefire way to get invited back to dinner.
I rough down the spoon using a bandsaw, hatchet, and drawknife. I use a hook knife to excavate the bowl and a sloyd knife to finish shaping. This simple tool kit is best suited to green wood, which can be had at just about any fallen tree or pile of trimmings.
A few simple tools are all you need
Carving spoons represents a remarkable equation: Minimal tooling gives maximum results. Although other tools can speed the process, all you really need is a hatchet and a simple knife or two. I've done well with garage-sale hatchets, as long as the steel quality and geometry are good. The best hatchets for carving have one flat side and one beveled, offering a much lower cutting angle, which suits work where you are splitting along the fibers, such as when roughing out a spoon.
Besides the hatchet, I use a drawknife, a sloyd knife, and a hooked knife for almost all the rest of the job. The work of the sloyd could be done with a well-sharpened pocketknife for your first spoons. The advantage of a sloyd is that it is thick at the back edge, making for long bevels that are easily honed.
From Fine Woodworking #252
For the full article, download the PDF below:
View PDF