Video
Pattern-Routing Basics
In this project video on making a step stool, you'll learn the fundamentals of pattern-routing.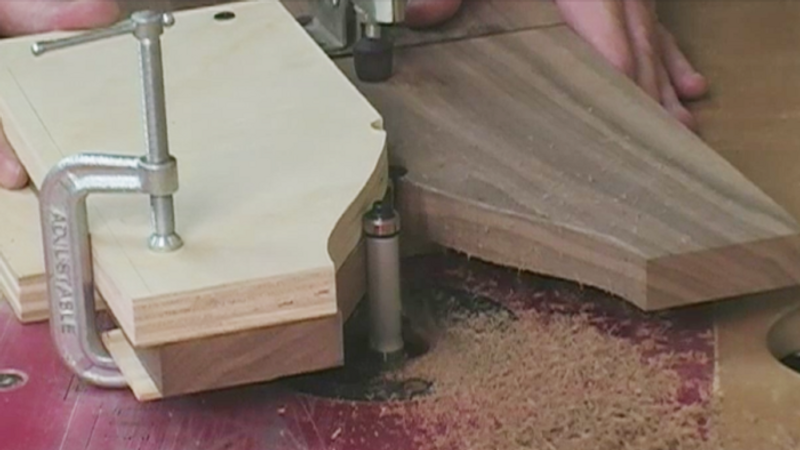 Pattern Routing
Rough out a whale's tail on the side pieces then refine the shape using a pattern-routing jig.
Once the top is shaped and the mortises are cut, it's time to start working on the sides.
Start by cutting the side pieces with length and width. Then lay out the whale's tail shape on the bottom of the side piece.
Rough out the whale's tail
Drill a hole at the top of the shape. Get the layout information from the plans. Drill the hole out at the drill press using a Forstner bit. You can drill the hole in both pieces at the same time, just double-stick tape them together.
Clamp the workpiece down on the drill press so it's not lifted from the table during drilling. Clear chips frequently to prevent burning.
Next, create a plywood template for the whale's tail shape. Make sure that the edges are really smooth since any imperfections will be transferred to the workpiece.
Trace the pattern onto the workpiece and use a bandsaw to rough out the shape. Stay within the lines as you cut.
Smooth the profile at the router table
Separate the two side pieces once the profile is roughed out. Refine the cut using a bearing-guided straight bit and a router jig. The jig just uses a plywood base, a fence that's the same thickness as the workpiece, and the template.
Attach the template to the fence and install toggle clamps to hold the workpiece down. Place the side piece in the jig, hold it in place it with toggle clamps, and attach a C-clamp to secure the workpiece.
Rout one side. Then flip the workpiece over and rout the other side. This is important to avoid a climb cut. The router should leave a nice clean cut.
Then, you'll just need to fine tune the whale's tail with a chisel, to remove the nub where the router could not reach.
Then the sides will be complete. In the next episode, McKenna shows his technique for cutting the tenons.
Video by: Gina Eide; Editing by: Michael Dobsevage