Projects and Plans
How to Make Clean and Contemporary Floating Shelves
Tony O'Malley's floating wall shelves don't rely on expensive brackets or corbels that might clutter the look. Instead, a torsion box and angle brackets make them light, strong, and simple to assemble.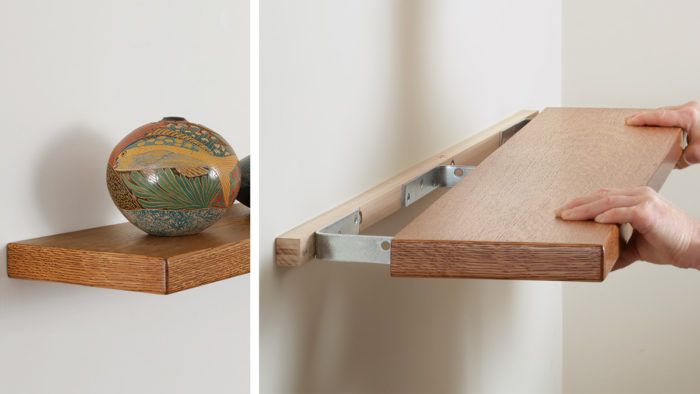 Synopsis: Here's a way to mount wall shelves without relying on brackets or corbels that might clutter the look. Tony O'Malley builds a torsion-box shelf and mounts it on angle brackets screwed to a ledger. The torsion-box construction makes the shelves lightweight yet extremely strong, and they will stay flat. The hollow interior makes them ideal for a burly support system.
---
Wall shelves are traditionally mounted with wooden brackets or corbels. Eliminating these will give you a modern, uncluttered look, but the trick becomes how to mount the shelves. While simple hardware kits may work for shallow shelves, say 6 in. or less, they're fussy to align, and I don't trust them for bigger, heavier applications. So I take an approach that's more reliable: a torsion-box shelf that conceals angle brackets screwed to a mounting ledger.
The first key is to make the shelves as lightweight as possible. This is where torsion- box construction comes in. A torsion box is a grid of core material with a thin skin glued to each face. A hollowcore door is a common example. Because of the counterbalancing forces of the two skins glued to the same internal grid, a torsion box can be remarkably light and yet exceptionally strong, even with little or no joinery between the grid members. An added benefit of this construction is that a torsion box, if made properly, will be perfectly flat and stay that way. And importantly for these shelves, the interior is mostly hollow, allowing for a support system beefier and more adaptable than the store-bought shelf hardware I mentioned earlier. I use standard angle brackets screwed to a wooden ledger and position the grid to allow the shelf to slide over the ledger assembly once the latter is secured to the wall. This system will work with shelves of any length, as well as larger mantels.
I used poplar for the core, skinned it top and bottom with 1/4-in.-thick quartersawn oak plywood, and edged the assembly with solid oak, also quartersawn.
Torsion box makes for good bones
The width of the metal brackets determines the thickness of the grid stock, so have the brackets on hand before you begin. Mill the ledger, front strip, and blocking slightly beefier than the angle brackets. I used 6-in. angle brackets here. They are slightly over 1 in. wide, so I made this shelf's poplar grid pieces 1-1/8 in. thick.
From Fine Woodworking #277
To view the entire article, please click the View PDF button below.
---
View PDF