A Portable Book Rack
An updated version of an Arts and Crafts classic. Read how the author builds it, watch a video of his technique for cutting through-mortises with no tearout, and order complete project plans.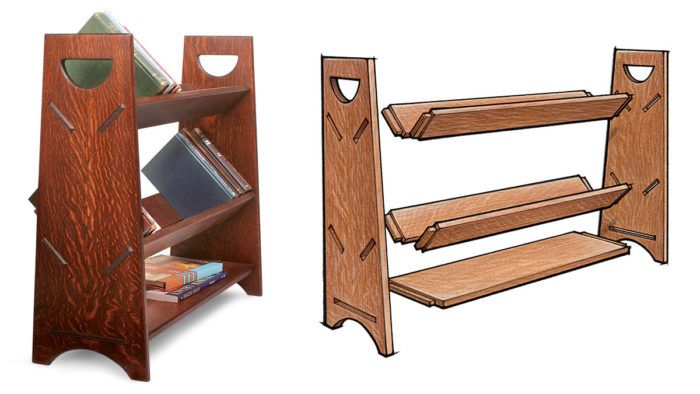 Synopsis: Gregory Paolini modeled his book rack after the #74 Gustav Stickley book rack — with its short design, V-shaped shelves, and D-shaped handholds. But Paolini also modified the design to make it his own, replacing wedged tenons with simple through-tenons, adding a shelf, and tapering the end panels for a look reminiscent of the Roycroft designs he loves. Paolini uses a router template to lay out and cut the slots for the shelf mortises and the other cutouts on the end panels. His router technique uses a guide bushing for initial cuts, followed by cleanup with a flush-trimming bit. The tenons are cut on the tablesaw, and the piece is finished with stain and shellac.
Years ago, while researching American Arts and Crafts designs, I took an immediate liking to gustav Stickley's No. 74 book rack. It's shorter than most bookcases, with slats that form a V-shaped trough to hold books…
Start your 14-day FREE trial to continue reading this story.
Get the Plan
CAD-drawn plans and a cutlist for this project are available in the Fine Woodworking store.
Buy The Plan