Marketing for Woodworkers: Print Ads
Darrell Peart credits his ads in print periodicals with making his name one of the most widely known among those who specialize in Arts and Crafts work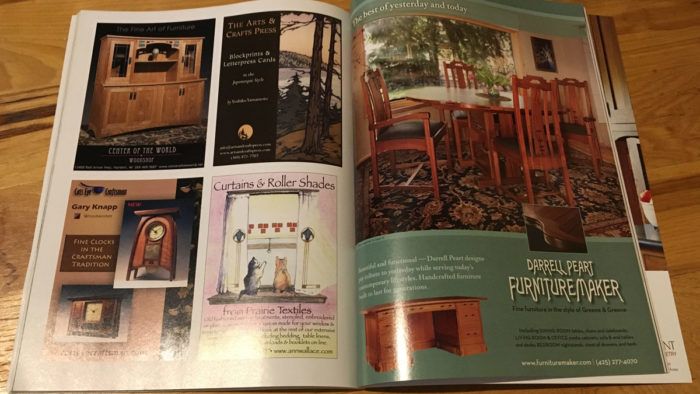 This is part of a series about different marketing tools for woodworkers. The others are linked below.
There's a widely held view that print is a dying medium. Print is not dying; it's changing in response to pressure from the web. One result: Many print publications are upping their production values in an effort to keep subscribers and advertisers involved. Advertising in magazines can be a very effective means to marketing your work. Granted, a two-dimensional image on a page won't allow potential clients to run their hands across a tabletop or test the comfort of a chair, but it can still pack a powerful visual punch. A well-designed ad is eye-catching and instantly links your name to your work.
One furniture maker who understands the potential value of print advertising is Darrell Peart. Peart has been a professional woodworker since the early 1970s and has made his living as a furniture maker for most of that time. He credits his ads in print periodicals with making his name one of the most widely known among those who specialize in Arts and Crafts work. Here are some key pieces of advice from Peart based on his experience.
1) Use high-quality images
It's worth paying a professional photographer. Over time, Peart developed his skills by learning from professionals, then transitioned to doing his own photography. "Today," he adds, "if I have a special piece, I'll still hire a professional."
2) Repetition is key
"One ad won't do it," Peart says. You need to advertise over a few years. Then people will know who you are. Don't expect a big return (or any discernible return) on one particular ad. The value of advertising comes from repeated exposure.
3) Be patient
Advertising is a long-term investment in growing your name recognition.
4) Choose wisely
Pick the publication(s) in which you're going to advertise based on the subject matter and production values. Readers will associate you and your work with the character of the publication(s) in which they see your ad. If you specialize in Victorian-style armoires, you're going to be wasting your money by placing ads in periodicals that specialize in mid-century ranches. Peart got many orders from his full-page ads in American Bungalow; he also advertised in Style:1900 (no longer being published), Old-House Interiors (now subsumed into Old-House Journal), and Arts and Crafts Homes and the Revival (now a stand-alone website with an annual book-quality publication, the first coming in October). Each specializes in articles about homes and furnishings that complement Peart's work.
5) Link your ad to your website
Peart launched his first website in 1995, getting into the game early and scoring the covetable "furnituremaker.com," which gave him high rankings in search results. While he says he "lucked out," his experience suggests that in some cases it pays to be an early adopter of new marketing modes.
6) Nothing beats word of mouth
There's no better advertisement for your work than having it in people's houses. Friends and relatives visit, admire the work, and ask who made it. Word of mouth alone may not keep you in business, but it's invaluable.
Finally, on a general note, Peart stresses two reasons for keeping a day job. Throughout his career he has been a professional woodworker—but for much of that time he was working in other people's shops. Over the years he built cabinets, high-end millwork, and furniture, learning an enormous variety of skills and different approaches from others. In addition, those day jobs allowed him to pick and choose the kind of work he wanted to do under his own name. "Having that day job allowed me to only take on the side jobs I wanted in my business. I got known for that particular style. If something else came in, I would refer them to someone else."
Finally, always ask prospective clients how they became aware of your work. It's the surest way to gauge how well your marketing efforts are performing.
-Nancy Hiller
Nancy Hiller is a professional cabinetmaker who has operated NR Hiller Design, Inc. since 1995. Her most recent books are English Arts & Crafts Furniture and Making Things Work, both available at Nancy's website.
More on FineWoodworking.com: