How the frugal woodworker survives 
In his blog, professional woodworker Mike Farrington details what he plans to do until things get back to normal.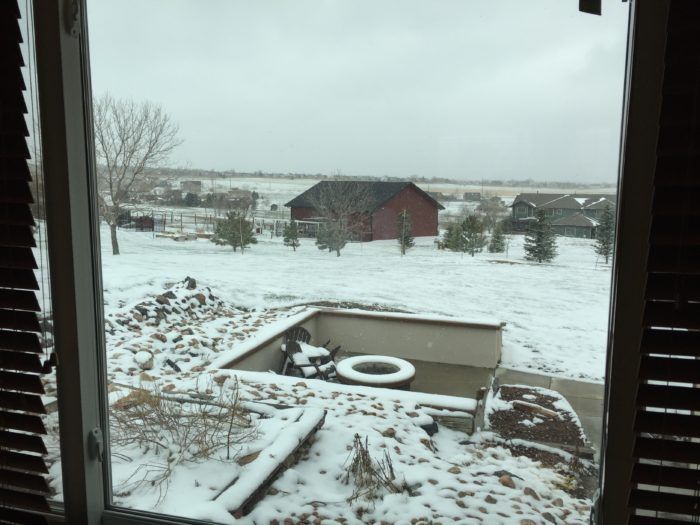 As I sit here on this beautiful snowy spring day in Colorado trying to write about anything but Covid-19, I just simply can't get it out of my mind. I can't shake it because it is affecting everything I do, every day. Why write about this in a woodworking blog? Because it has affected one of my very favorite things in this world, my woodworking business. Overnight I went from having enough customers to having none. I have a couple of projects on hold, with promises from those customers that when things clear we will get back to work. This is a very kind gesture, but the fact of the matter is, that isn't much to count on. So what do I do? I was going to write a blog on how to survive a recession. Fortunately, before writing on that particular topic, I did a quick look around the Fine Woodworking blog section only to find a very well written article by Nancy Hiller. Nancy has put together a very comprehensive and thoughtful blog post on how she is going to weather these tough days, weeks, months—dare I say year or more—that we small business owners are going to endure. 
Here is what springtime in Colorado looks like.
I have read her post from beginning to end several times now and I agree with most of what she says. The rest of this post is going to be about what I plan to do until things get back to normal. It runs parallel to what Nancy talks about, but specific to me and my shop. 
To understand my position better, we must go back to 2007 when the recession hit. I had been in business for a while and I was doing OK. Then the phone started ringing less and less. Fortunately, at that point, my girlfriend at the time (later my wife) and I were in saving mode for a house. As such we were living in a dumpy rental with a detached garage that I used for a shop. The entire place, consisting of a small house and garage, was $995 a month, I had a car payment of $192.50, after that it was electricity and food. We had a low overhead. 
This type of living situation was first ingrained in my thinking in the early 2000s, when the previous recession hit. Back then I had been working as a finish carpenter for a few years and I remember seeing several small-time contractor types go under because they bought houses they could only afford during a good market, and they had huge 1-ton trucks with giant tires and lift kits, etc. At the time none of this really affected me. I was going to college, and I was certainly not going to stay in the trades, right? After all this was just a job to work my way through college. After college, I realized I couldn't work at a desk and decided to go back into the trades. At that point I promised myself that I would always keep my overhead low and I would buy my business stuff with cash. I would try to live so that when the construction economy moved from feast into famine mode, I'd be OK. Fast forward to the present day, all these years later, and I have kept to my main principle of being frugal. So long as this pandemic doesn't last too long, I'll be fine (at least I keep telling myself this). 
New duct system.
So as of this post, I have a list of workshop and house projects that need completing. I started with my dust-collection system. About 8 months ago I found a steal of a deal on a new monster dust collector via Craig's List. I buy pretty much all my tools this way. It's an Oneida 5-hp cyclone, it's two years old, and I paid a third of what it would cost new. It also came with a bunch of spiral pipe. The guy was selling it because he was moving into a shop with lower ceilings and it wouldn't fit. So as things have slowed down the last couple of weeks, I installed and hooked up the new collector. This is going to be a great improvement for the shop and my health. 
Installed and standing tall here is the new dust collector.
Next on the list, I am finally going to build a new chopsaw station. I called my local hardwood/plywood supplier and asked what kind of deal could they make me on some "shop" plywood. They had a closeout price on several sheets of veneer core 18mm basswood plywood for $41 a sheet. Done. That's only a little more than what I pay for MDF and is much higher quality than the plywood at the big box places. I am in the final design phase of that project, and I hope to start construction soon. The lesson here is always ask your supplier if they are trying to get rid of something or might have a slightly damaged material at a discount. 
I picked this little gem up for 100 bucks. It will be a dedicated crosscut machine for my chopsaw station.
The last major item is to remodel the office in our house. This project includes drywall, moldings, doors, flooring, and a new two-person desk for me and my wife. I am fortunate to have enough leftover materials to build the desk for near zero cost. Drywall and moldings are not too expensive, but the payback is equity in our home. This is one of the keys to my business; whenever I have time, I work on our house. Over the years this has really added up; by the time we sold our last house I had put a lot of work into it. That allowed us to ask for and receive a premium for the property, which in turn allowed us to upgrade to our current house/shop without increasing our expenses too much. 
Here are the superlong crown and base moldings that will go into the office project.
When I'm done with this list, if the world is not back to some new form of normal, I have a couple of spec pieces of furniture I would like to make and a few more shop organization projects to complete. 
Materials to build doors and other moldings for the office remodel.
In each of these projects there is a common theme: low overhead and low costs. This is a lesson I was fortunate to learn early on and it will help me through this difficult time. I would like to think that Nancy would agree with what I have written and I would like to thank her for what she has written. 
For those of you who follow me on YouTube, all of this should mean that I have more time to make and post videos to my glorious channel, and of course I will post snippets to my Instagram feed. 
---