Fair enough
For Nancy Hiller, there is a lot more to coming up with a fair price than calculating time and materials.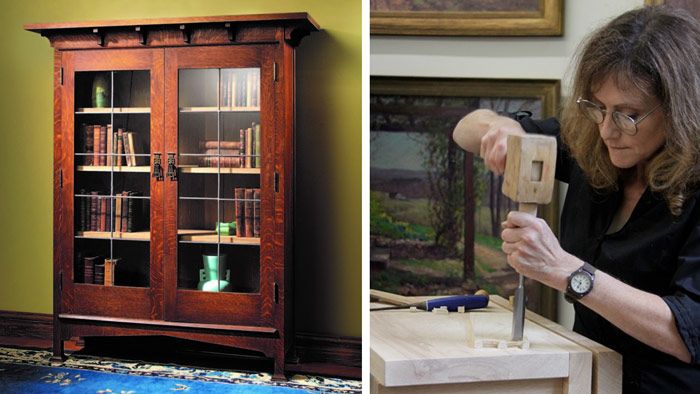 Last summer I published a post at the Lost Art Press blog about one of those experiences familiar to many who build furniture for a living. A reader of my Popular Woodworking article about an English Arts and Crafts bookcase, who mentioned that he was retired, had written to say he'd built a bookcase inspired by mine. "I've recently been asked to put a price tag on it for a possible commission," he wrote. "But I'm not sure what to say. Can you help?"
I had sent back a concise and respectful note, replying that it was not for me to tell him what to charge for his work, because (in a nutshell) every maker's circumstances are different. What I charge, as someone whose livelihood depends on the furniture and cabinetry I build, has nothing to do with what he may be in a position to charge, as someone who's retired.
I published the post about the above exchange because it was one of those questions with which many of us find ourselves faced – questions based on assumptions (often unconscious, and almost always innocent in their intention) that deserve to be brought to the fore. I don't know whether the writer was asking me to share the specific figure I would charge for the bookcase, or requesting instructions on how to go about calculating what he should charge. The former is irrelevant in this case, and a full answer to the latter would have required a lot more time than I could give.
Google "how should I price my art?" and you'll find 4,660,000,000 results. Woodworkers are some of the loudest in lamenting the challenge of putting a price on their work. Some of us have written elsewhere about how we come up with our pricing; this stuff is out there online, free to anyone who bothers to seek it out and read. Deciding how to price your work takes some thinking, some effort.
A reader of my post commented that he was disappointed by my response. He said it was "unfair, arrogant, and selfish" of me not to have suggested "a fair price" and expressed his belief that I "could [not] care less." Ever since, I've had in mind to write about what might constitute a fair price, because the matter is far more nuanced than this righteous commenter seemed to appreciate. Let me underscore that this post is not about pricing your work. It's about the concept of a fair price this reader invoked.
The first step in addressing this matter is to think about what we mean by the word "fair." Woodworkers of a certain age will be familiar with the definition of fair as lovely. A weather report may call for fair skies; a woman may be described as fair of face. The woodworking term "to fair a curve" goes further, referring not just to making a curve pretty, but in many cases also to shaping one curved part to fit another.
Each of these meanings implies a detail that's easy to overlook: Fairness isn't just one-sided. It always involves a perceiver and something perceived. As a consequence, any serious determination of fairness will depend on variables pertaining to each of these in a given situation. Taking this particularity into account is all the more important in cases where we're using the word "fair" in its most widespread contemporary use: to mean "just" or "equitable."
By way of illustration, let's return to the reader whose request for help with pricing prompted my original post. Here are some of the considerations that typically factor into pricing. Beyond the cost of materials, my charges need to cover my living expenses, shop overheads, and a variety of costs (among them several types of insurance, permits, and taxes) associated with running a business as a business, i.e. in accordance with legal and municipal requirements. On the other hand, because I depend on this work for my livelihood, I have to keep jobs coming in; paradoxically, this sometimes translates to doing what I can to charge less than I might otherwise, in an effort to keep my work affordable. When it comes to pricing, the minimal definition of fairness (in the sense of justness) to a maker is that her charges should cover her cost of living and doing business. For the customer, fairness in this same sense has more to do with the maker being honest and transparent about what she is going to charge, and the basis on which she will do so (i.e., will she work for a fixed price, on a time-and-materials basis, or according to some other plan?).
If I quote a prospective customer a price of $10,000 for a set of built-in bookcases based on the labor, material expenses, and related costs of doing business that my records show it cost me to build a similar set in the recent past, the customer may consider the price unfair in the sense of unattractive, i.e. more than she is willing to pay. No one can argue with that, though in such a case I would do my best to explain why the work would cost what I quoted. Even so, a quote based on what I know the job would cost me to build is fair to me, and I am one of the essential parties in the relationship. On the other hand, if the price I quote is affordable to her and within the range of what she imagined she would pay for the work, it's likely to strike her as fair in the sense of attractive.
What someone else, amateur or professional, might charge to build a similar piece is irrelevant to the fairness of the price I quote, and vice-versa. Again, every maker's circumstances are different. Furthermore, there is no law or ethical obligation that requires me to charge only what my work costs me to make, or to keep my charges below some imaginary maximum price; I can in principle charge whatever price I want, as long as my customer is willing to pay it. If we are both happy with the arrangement, it is by definition fair.
A maker who does not depend on building furniture for his livelihood and is free from the kinds of operating expenses that go with running a business can charge as little as he sees fit. Is there any professional who has not heard a prospective customer say she's going to see if her friend Bob, the retired shop teacher, can build the kitchen island you just quoted for less? Fairness, in the sense of justness, is really not an issue here (unless you want to talk about the arguable unfairness of those who don't need the work for their livelihood competing against those who do, but that's a different discussion). If the bookcase commission is for a friend, the retired maker doesn't necessarily even have to charge for labor; he may decide to charge for the materials alone. Alternatively, because he doesn't strictly speaking need the job, he is free to quote as high a price as he may wish. Nothing makes it easier to quote art-world prices than the security of not actually needing to make a sale.
Equally important in considering the meaning of "a fair price" is what we mean by the word "price." At this point in American economic history most of us are so accustomed to thinking as consumers, trained to equate optimal value with the lowest price, that we've forgotten the more nuanced meaning of "price" – i.e., value, or worth. Most of the things we buy on a regular basis are so far removed from any sign of their makers and from any record of their making that we see them less as artifacts (literally, things made by means of skills) than commodities (stuff to be bought). Price has been reduced to a number. But as with the concept of fairness, worth (or value) is relative. A diamond ring may be worth $10,000 to someone very wealthy, but if you're starving, it's of less value than a potato.
Bottom line: A fair price is one that compensates the maker adequately, and one that the buyer understands reflects the care, skill, and materials invested in the object's making. It is not an abstract number, but a measure of a relationship. This is why I cannot simply suggest "a fair price" for someone who builds a piece based on my design to charge a prospective customer.
*Thanks to John Cashman for reading a draft of this post, providing constructive comments, and suggesting the title.