Marketing for Woodworkers: Shows, festivals, and exhibitions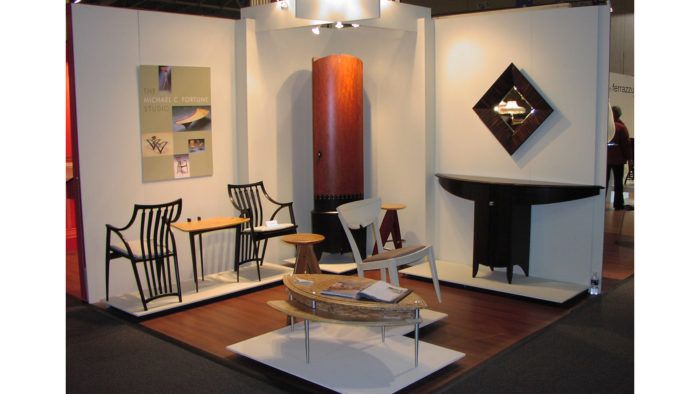 This is part of a series about different marketing tools for woodworkers. The others are linked below.
To make a living as a furniture maker, you have to sell your work—and that means selling, actively. I don't know of anyone who simply hung out a shingle and proceeded to make sufficient income to live on. Word of mouth is excellent; there's nothing like having a happy client recommend your work to friends and colleagues. But word of mouth alone is not always enough to keep a furniture maker in business.
Fortunately, there are other ways to market your work. Some are more effective for those who do custom work; others, for those who concentrate on building a basic range of pieces to order. For this post, I interviewed internationally renowned furniture designer and craftsman Michael Fortune on the value of one form of marketing that I now see I was approaching incorrectly: furniture shows.
Furniture is physical: It needs to be seen and ideally also touched, opened, and (at least where chairs are concerned) sat upon. Shows, festivals, and exhibitions provide a means to getting your work directly in the view of prospective customers in a setting where you, the most knowledgeable person on the topic of your work, can speak with them directly.
On the other hand, shows and exhibitions require a hefty investment. Entry fees can be expensive. Factor in the cost of building or renting a booth, renting a trailer, and accommodations for events out of town—not to mention days away from work in the shop—and such events add up to a costly proposition. Moving furniture to the venue and back is also fraught with risk. If you're considering making that kind of investment it's worth reading the following advice from Michael Fortune, who has 40 years of professional experience.
Fortune has found exhibitions an excellent source of work. In fact, he's still making furniture for several clients he met at his very first exhibition, circa 1980. Here's his advice about how to make exhibitions work.
1) Choose the right kind of show
Fortune doesn't generally participate in exhibitions focused exclusively on furniture. "There's too much stuff," he says, "too much woodworking." He prefers exhibitions related to interior design, which encompass a variety of media.
2) Don't just do a show once
Fortune will sign up for a minimum of three years. "People go to an exhibition and see someone's work and think it's interesting. The next year they look at what you're doing and go, 'Oh, that person's still here,' because as they walk around they see a number of other people for the first time, never to be seen again. They'll stop and talk casually, and nothing happens. But during the year they think about 'we might need this, we might need that,' so they come back the third time with their checkbook to put a retainer in place to start a conversation about building a piece."
3) Appearances matter
Fortune puts a lot of effort into making his display look good. He brings his own walls (painted particleboard), floor, and lighting. He brings anyone currently working with him so they can see the kind of clients with whom they'll be working. Also, he says, "I dress really, really well for exhibitions: expensive slacks, nice sport jacket and shirt. At furniture exhibitions there's a bunch of people walking around in jeans and plaid shirts. That's just not something I would do. When I go visit my clients I'm generally dressed better than they are."
4) Make your business cards work for you.
Fortune's cards are illustrated with images of his work. "People put them on their fridge," he says. One couple called him eight years after a show; they'd had his card on the fridge. He has been working for them ever since then.
5) Don't build spec pieces for shows.
"Spec work is generally the wrong size, the wrong everything," he says. Instead, Fortune recommends borrowing pieces back from clients, for two reasons. First, his desire to show their piece in public says he's proud of it. What client wouldn't appreciate knowing that his or her chair was worthy of display in a prestigious show? Fortune finds that clients will generally attend the show; this gives them an opportunity to see others responding favorably to their piece. Again, who wouldn't love that? Furthermore, he's often showing more than one piece from the same residence. The subliminal message: He's not a one-shot deal; his clients are happy with the work and hire him repeatedly. Second, when the piece is out of the house, there's a blank space. Friends ask where the chair went. This gives his clients a chance to say that Michael Fortune requested the piece for a show. That's impressive.
Finally, always ask prospective clients how they became aware of your work. It's the surest way to gauge how well your marketing efforts are performing.
-Nancy Hiller
Nancy Hiller is a professional cabinetmaker who has operated NR Hiller Design, Inc. since 1995. Her most recent books are English Arts & Crafts Furniture and Making Things Work, both available at Nancy's website.
More on FineWoodworking.com: