Two DIY Woodworking Vises
Turn your kitchen table into a workbench with these homemade work-holding wonders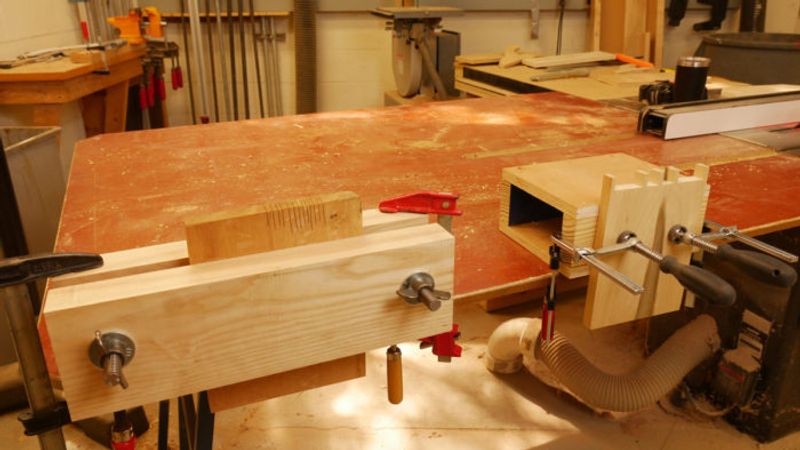 Let's face it, woodworking is an expensive hobby. I'm all for doing anything that makes it easier and cheaper for someone to get into this incredible craft. When I first started on my woodworking journey, my workbench was nothing more than four sheets of plywood glued and screwed together sitting on top of a couple of cheap metal sawhorses. To hold stock in place as I handplaned, I screwed a wooden hand screw directly to the top of the bench. For dovetailing I made a Moxon-style vise out of some oak and some pipe clamps. Both techniques worked, but neither worked very well. I dreamed of the day I could spend money on a nice cast-iron vise. Oddly, that day never came. I always found a way of doing what I needed without shelling out money on a vise. I probably shouldn't admit it, but the first time I used vise on a consistent basis was here in the Fine Woodworking shop. Now, don't for one minute think that when I build a bench for my new shop I'm going to leave off the vise. But not having a vise does not mean you need to put your woodworking on hold.
In issue #268–which will be coming out next week–we have a great collection of workbench tips titled "Rethinking the Workbench." In it, there are two tips that stood out to me and my penny-pinching ways. The first was a simple box from Steve Farnow that allowed you to clamp boards vertically (and horizontally) to make dovetailing easier. The second was a Moxon-style vise from Rex Bostrom that ingeniously used dumbbells as the screw hardware . The best part is that neither vise requires a workbench to build or use. I did all of the work on our tablesaw outfeed table, which was the closest analog I could find to a dining room table.
In this video, I put both to the test with a twist of my own. I was shocked at how well both worked, especially the scrap wood clamping box. Sometimes solutions are so simple, they're easy to overlook. Granted, I used 5/8-in. acme thread, nuts, and handles for my Moxon vise, but all of the hardware for it cost around $50.
I hope this video helps other woodworkers out there who are strapped for cash. Actually, I think the upcoming article will give any woodworker–broke or not–some ideas about how they can be more efficient at the workbench.
Source list for the moxon vise:
1 – 12-in. piece of 5/8-in acme lead screw
2 – 5/8-in. acme thumb knobs
2 – 5/8-in. acme nuts
More on FineWoodworking.com: