Making Sense of Vises
A user's guide to the heart of the workbench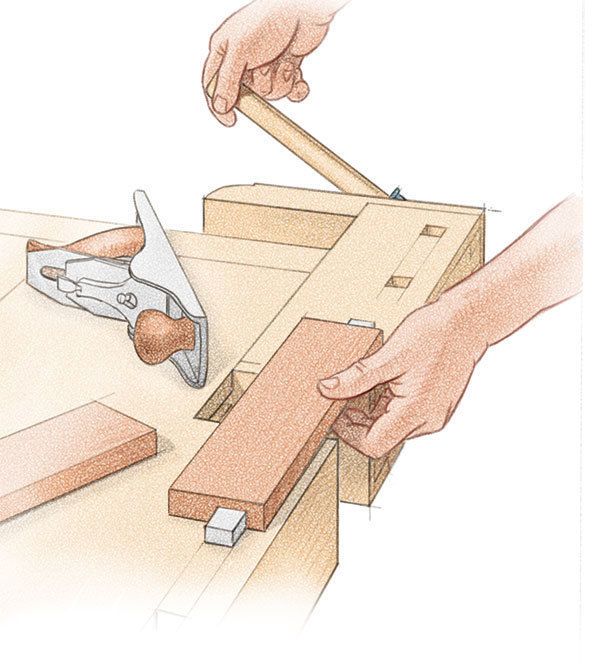 Synopsis: The next best thing to an extra set of hands is a great pair of vises. Equipped with a good front vise and end vise, a workbench can meet all of a woodworker's basic needs for holding work firmly and within reach. Contributing editor Garrett Hack covers all you need to know about vises, whether you want to hold work vertically for sawing dovetails or planing end grain, hold wide workpieces or secure long boards on edge, steady a wide panel, hold work flat on the table, or handle awkward shapes. In addition, he gives the lowdown on each type of front vise (cast iron, wooden jawed, arm, and patternmaker's) and end vise (cast iron, tail, full width, and twin screw).
A good bench vise is nearly as useful as a shop apprentice. On my bench I have a front vise and a large tail vise—I call them my right- and left-hand men. It's hard to imagine woodworking without them; they hold my work firmly so that I can concentrate fully on powering and controlling the tool I'm using.
In general, you'll find vises at two locations on a woodworker's bench: one on the long side of the bench, typically at the left-hand corner for right-handed woodworkers, and another on the short side at the opposite end.
The first, known variously as a side vise or front vise, matches the mental picture that most people have of a vise, with a movable jaw capturing work between it and the edge of the bench.
The second, called an end vise or tail vise, can clamp work like a front vise, but is more often used to hold boards flat on the bench, pinched between a pin or dog in the vise and another in one of the many holes along the benchtop. Together, these two vises can meet all of a woodworker's basic needs when it comes to holding work firmly and within reach.
Up front: a vise to clamp work vertically or on edge
A front vise, typically found on the bench's left-front corner, is ideal when you need to clamp a board to plane an edge, hold a chair leg while shaping it, or hold a board upright for sawing dovetails. The most common design is quite simple: a jaw of wood, or cast iron lined with wood, that moves with a single screw and a T-handle. The rest of the vise is mortised into the front edge of the bench. Mine opens about 10 in. and has about 4 in. of depth.
Many of the front vises on the market are fairly easy to fit to a benchtop. Look for one that has a large screw with well-cut Acme threads. These are the same square threads found on good clamps; they can smoothly deliver lots of force over a long life.
To hold long boards, wide panels, or doors securely on edge in a front vise, you need the added support of the deep front apron of the bench. Properly installed, the fixed half of the vise should be mortised into the bench so that the movable jaw clamps against the apron.
From Fine Woodworking #191
For the full article, download the PDF below:
View PDF