Tool Test: 14 Bench Vises
A head-to-head look at the tool everyone needs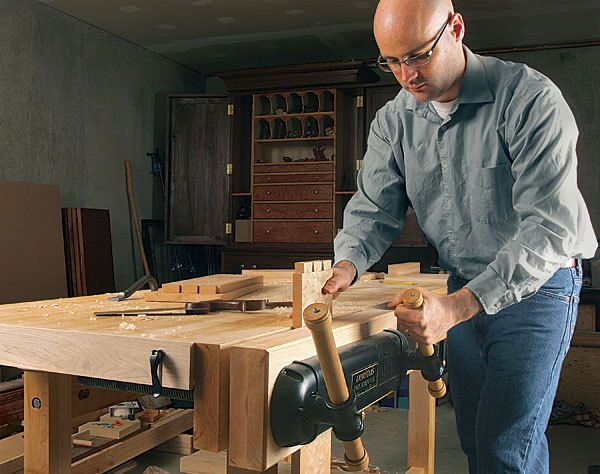 Synopsis: Woodworker and associate editor Matt Kenney firmly believes that a good bench vise is as important as any tool in the shop. So, with the help of a shopful of college students, he set out to test 14 of them. Whether you choose a cast-iron vise or vise hardware, you want your front vise to hold work securely, open and close easily, clamp squarely to stock, and resist racking. Kenney found that important features also include a quick-release device and the capacity to add benchdogs. Included are directions on installing cast-iron vises and vise hardware.
From Fine Woodworking #205
My woodworking improved dramatically after I installed a vise on my bench. With a vise to hold my work, I could mark and cut accurate dovetails, plane square edges, and rout profiles without the board sliding all over.
That's why I'm convinced that a bench vise is as important as any tool in the shop. Whether you use power tools, hand tools, or both, a good bench vise will help you work more accurately, efficiently, and safely.
A bench vise is meant to hold your work securely. A good vise not only does that well, but also opens and closes easily, has jaws that clamp squarely to the stock and hold it tight, and is versatile enough to handle a variety of woodworking tasks. A bad vise doesn't hold boards tight, or has a nut that pops off the threads when you tighten the jaws.
Narrowing the field: It wouldn't be practical to test every vise available, so I focused on front vises, because they are the first serious vise woodworkers buy and can be the only type they'll need. Front vises are not difficult to install and they can be used as end vises. All have a screw between two guide bars, but there are two types. You can buy a fully assembled cast-iron vise, which includes metal jaws, or simply the vise hardware, which supplies the screw and guide bars. You supply the wooden jaws.
Both types have their advantages. Vise hardware is less obtrusive, because there is less visible metal and the jaws can be made to match your benchtop. Cast-iron vises are easier to install and most have a built-in benchdog.
When I had the option, I chose quick-release models, because slowly winding a vise open to plane a drawer or use the built-in bench dogs isn't efficient or fun.
We also tested two twin-screw vises. One model was discontinued, so we're publishing only the results for the Veritas model. Like the other vises, it can be used as either a front vise or an end vise. Though it doesn't have the quick-release feature, it can clamp stock vertically in the center of its jaws, making it easier to dovetail wide boards. That's a compelling benefit.
To put these vises to the test, each one had to be used daily for a variety of tasks, and they had to be compared side by side. I needed help and found it in the School of Art + Design at Purchase College in New York.
For the full article, download the PDF below:
View PDF