Projects and Plans
Sleek and Shapely Coffee Table
Hand-shaping brings out the beauty in this elemental piece.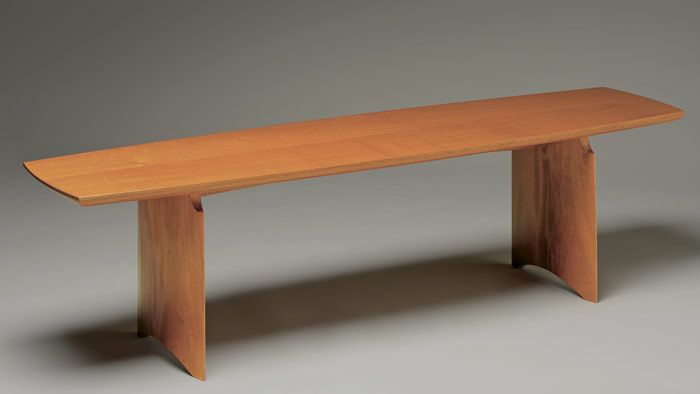 Synopsis: This table relies on graceful curves and sheer planes instead of ornamentation. It can be made entirely with hand tools, or with the combination of machines and hand tools that Michael Cullen uses here. MDF templates are used to lay out the curves and cutouts in the legs. The joinery is a combination of haunched mortise-and-tenons and doweling.
At the time I first made this table, in 1995, I had been building a lot of complex furniture full of veneering and fussy inlay. The new table was a real departure, elemental instead of elaborate, relying on graceful curves and sheer planes without a hint of ornament. Building it marked a return for me to working solid wood, and a rekindling of my interest in working with simple tools such as planes, spokeshaves, and handsaws to execute a piece. In retrospect, I see I was returning to my Arts and Crafts training and to the philosophy that went along with it—the idea that sound handwork is the foundation of good furniture making.
I've had the pleasure of building a number of these tables since that first one, and I now tend to combine machines with hand tools in the process. Machines execute the milling and joinery flawlessly, and hand tools shine during the shaping. The table can be made from almost any type of wood. I'm using mahogany here, but I've used a number of other species, including ash, cherry, walnut, and even zebrawood. Whatever wood you choose, be sure to pick boards for the legs that are a good match in color and grain. And cut the top from a single plank, if possible. If you have to edge-glue two boards to make the top, plan the grain so the joint is close to undetectable. Keep in mind, too, that the more dramatic the figure in the wood, the more attention will be drawn away from the subtle curves of the piece.
The project proceeds in two stages. The first stage is milling all the parts square, cutting the joinery, and dry-assembling the piece. The second stage is the shaping: creating the curved faces and cutouts on the legs, and cutting the arced and profiled edges of the top.
For the full article, download the PDF below:
View PDF