Shop Tips
Workshop tip: Double-stack clamp rack saves space
Holds two rows of parallel-jaw clamps in the same space as one.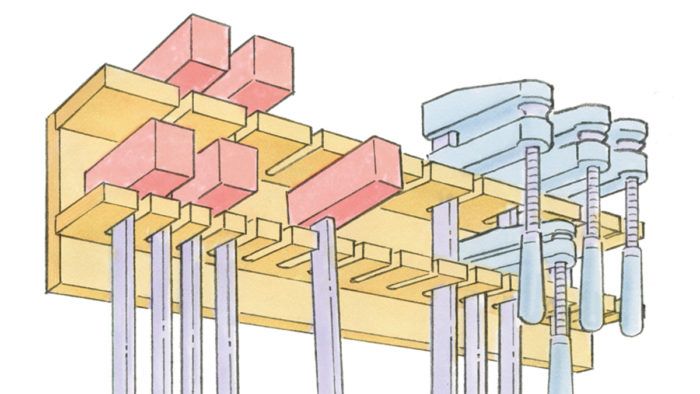 Wall space is at a premium in my shop, and floor space is even more precious. So I decided against a cart for clamp storage and came up with this space-saving wall rack. I built it to hold parallel-jaw clamps and large bar clamps, but it can easily be adapted to other types of clamps, and expanded as needed. To get adjacent clamps to drop into place you may have to stagger their lower jaws, but that only takes a moment or two.
I made the rack from 3/4-in. plywood, and cut a shallow rabbet and dado for the shelves to help them withstand the weight of the clamps. To slot the shelves, I drilled a 7/16-in. hole at the stopped end of each slot, then cut the sides on a tablesaw crosscut sled. If your sawblade won't reach high enough, finish the slots with a jigsaw or bandsaw. I clamped the two shelves together and cut the wider-spaced slots in both parts at once, then unclamped the shelves and cut the additional slots in the lower shelf. I screwed and glued both shelves to the back plate, and mounted the rack to wall studs.
—C.J. MARQUARDT, Scappoose, Ore.
Illustrations by Dan Thornton
From Fine Woodworking issue #286