Shop Tips
Organize Your Hardware, Organize Your Shop
In this video, Ben Strano shows how he keeps his sizeable collection of hardware tamed and organized so that he can find what he needs when he needs it.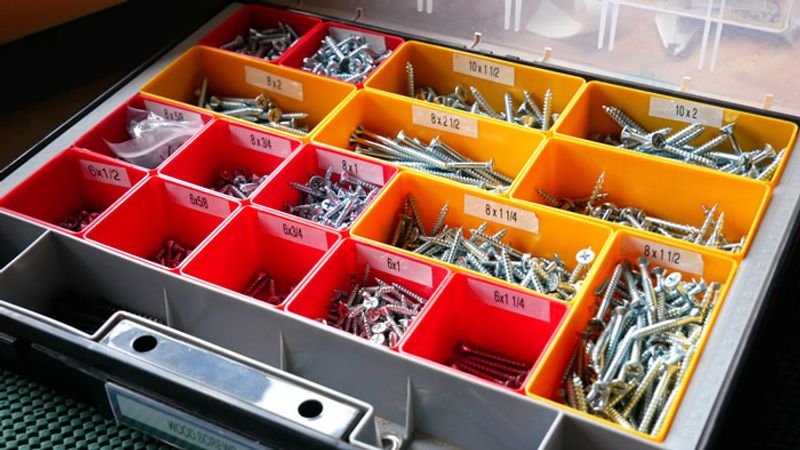 I like to keep my shop organized. Unfortunately, I can't say that extends to the rest of my life. Woodworking is a retreat from day-to-day stresses for me, and if I come out to my shop and can't find what I need, I'm adding more stress to my life. So if you're like me and like to use woodworking as an escape, it may be time to buckle down and organize your shop a bit more so that it's not stressful when you try to work. Whether your retreat is a basement shop that shares laundry duties, or a garage where cars get pulled in at night, these organizational principals can be used in any shop.
Purge
Let's get the hard part out of the way. Everything in that coffee can labeled "screws"–you don't need it. It sounds amazing to some, but the walls will not cave in on you if you throw away useless nuts and bolts. I promise you nothing happens. "But what if I need it one day?" The stress and clutter that collection of random hardware causes far outweighs the stress and expense of a visit to the hardware store. You can keep that collection of brass hardware your grandfather had stored away in a bin, but don't be sentimental about 8mm stop-nuts.
Start big
I'm lucky that I was able to wall off a bay of my shop to keep "garage stuff" out of the woodshop. My last shop was a shared space (basement, general storage, laundry) and I kept it somewhat organized by using large bins for very general organization of the things that I might use once a year. Plumbing fittings went into a plumbing bin, painting supplies into a painting bin. See the pattern? Don't try and get micro-organized here. Just get the clutter out of sight.
I fix 98% of what's broken around our house, and I like to have extras on hand. Even so, I'm able to fit just about all of my extra "stuff" into six bins, keeping the contents out of sight and out of mind. I prefer bins with attached lids; this way the top doesn't get lost, making the whole thing useless.
Medium-size storage for bits and bobs
I have a storage wall for common woodworking items–hinges, brackets, extra glue, wax, and random bits of metal. This organization system was inspired by a video of Casey Neistat's showing off how he organizes all the accessories that come with running a video studio. His system is based on a wall of red plastic toolboxes. Wanting to pay homage to Neistat, I made my red boxes out of wood and kicked them up a notch by making them in three different sizes, 6 in., 12 in, and 18 in. wide. This allows me to store longer items, and the boxes have a satisfying "Tetris" vibe. The most important aspect is that this wall system can grow and conform to what I need to organize since I could easily make more of them.
The little stuff is the most important part!
I've worked in hardware stores for about a quarter of my life–all through high school and college, and for a couple of years before I came to work at the magazine. I really enjoy hardware stores. Maybe a part of me just wants to have a mini-hardware store in my shop, and another part of me doesn't like looking for things, and wants to have everything on hand when I need it. I buy most of my screws in bulk, which saves money in the long run. The rub is, if you're going to have a large supply on hand, you'd better have a way of organizing them.
Seven years ago, Adam Savagestarted trend of hardware organization with his video (above). Adam's system is centered around Sortimo bins, which are widely available in Europe, but here in North America they run in excess of $60 apiece. Adam's Sortimo bins allow him to organize cases with various sized cups within them, making them adaptable to just about any set of hardware.
I have built my organization around a much more affordable version, while still checking all of the boxes the Sortimo cases do. Coming in at $21.50 apiece from Lee Valley, the Allit economy storage bins have proven to be well worth the outlay. There are more affordable versions made by Stanley and Harbor Freight, but for me, these are the perfect balance between quality and affordability. Extra cups are available for about a dollar apiece. I started with two bins, to see how things fit, followed by four more bins, 15 1×1 red cups, and 10 2×1 yellow cups. I've been able to organize almost all of my hardware with those six bins.
If you have a 3D printer you can print up more cups. I wouldn't recommend printing all of your storage cups like Alexandre Chappel did in this incredible video–they really take a long time to print, and it's unlikely you'd save any money. I wound up printing a few cups that weren't available, like a 3X1 for a pneumatic nails (and this one with a divider).
Allow your storage to grow
Think of your storage system as a living thing. Your organization needs to be able to grow. If it can't, you'll eventually work yourself into a corner, overflow, and you won't be organized anymore. I try to make sure that all of my systems work together, and can grow so that I can stay organized years from now.
The more organized you keep your shop, the more enjoyable you're going to find your shop time, and isn't that the whole point of having a wood shop? It actually starts to become fun and addictive to see how efficient you can make things.
---