Projects and Plans
Tool Chest with Drawers
Build a custom chest to store your hand tools in style.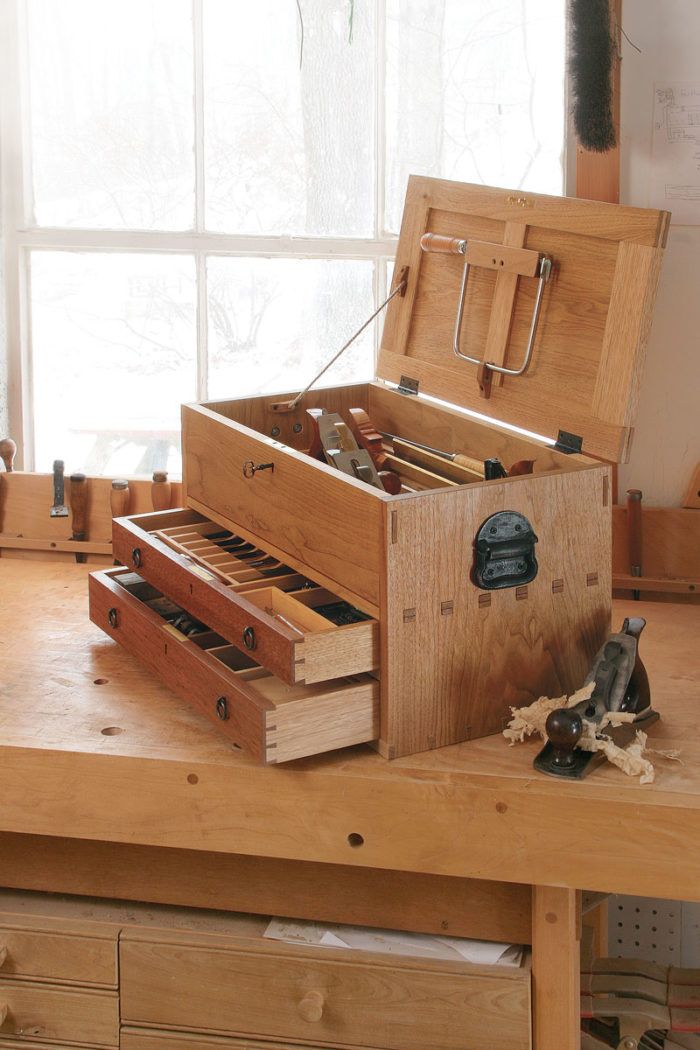 Synopsis: This traveling tool box is designed to hold your essential hand tools, keeping them close at hand on a benchtop or countertop and tucking away easily when not in use. The design combines a deep till for planes and saws with a pair of drawers below. The sides and bottom are attached with through-dovetails, and the fixed shelf is attached with through-tenons. The rest of the joinery is mostly routed grooves and rabbeted panels. Dimensions: 12-5/8 in. deep by 23-1/4 in. wide by 13 in. tall.
---
I teach woodworking on a regular basis, and I invariably would stuff hand tools into a canvas tote to take along with me. While convenient, the tote didn't offer much protection in transit or easy access once I was at school. So I finally got around to making a traveling tool box that not only holds my tools more Tool Chest with Drawers Store your hand tools in style BY MICHAEL PEKOVICH securely but also lets me get at them when I need them.
You don't need to be an itinerant woodworker to make good use of this chest. While a wall-hung tool cabinet like the one I made for a recent Video Workshop might offer more storage, it also requires dedicated wall space. If you haven't set up a permanent shop yet and need to stow your tools on occasion, a tool chest makes sense. This small case will house your essential hand-tool collection, keep it close at hand on a benchtop or countertop, and tuck away just as easily. Another reason I like it is that it has forced me to think about which hand tools I really need. For more on that, check out my free video at FineWoodworking.com/extras.
I studied quite a few classic tool chests as I designed this one. I went with a well deep enough to store handplanes and backsaws up top, and drawers below that allow easy access to chisels and layout tools.
To keep the weight down, I made the case from butternut. It's as light as pine but a lot prettier. Another thing I love about butternut is how it works with hand tools. It dents easily, so be sure to keep your work surface clean and chip-free. It also has a tendency to be a little fuzzy, but a sharp handplane leaves a glass-smooth surface and brings out the luster in the wood.
The case joinery looks impressive but is pretty simple. The sides attach to the bottom with hand-cut through-dovetails, and the well bottom is attached with through-tenons, also hand-cut. I like to leave this type of joinery a little proud to add interest. The rest of the case joinery is mostly routed grooves and rabbeted panels. I built the frame-and-panel lid with tenons and bridle joints that I cut quickly and easily at the tablesaw, though you could do them with hand tools, too.
From Fine Woodworking #234
To view the entire article, please click the View PDF button below.
View PDF
Get the Plan
CAD-drawn plans and a cutlist for this project are available in the Fine Woodworking store.
Buy The Plan