Blog
How to Make a Push Stick
Keep your hands away from blades and cutters, and hold work securely with this vital shopmade accessory.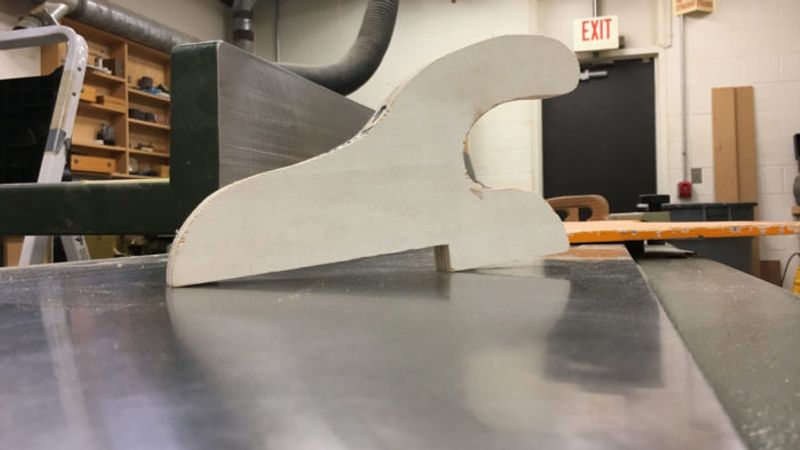 One of the most useful tools in my shop is the push stick. It keeps my hands away from the sawblades and cutterheads and allows me to hold the workpiece securely when passing it over a variety of machines. I use the same push stick on the tablesaw, bandsaw, jointer, and router table.  The push stick that I find to be the safest and most efficient is one I make myself. I first came across this push stick when I was a furniture making student at the North Bennet Street School.
I make my push sticks from 3/4-in. Baltic-birch plywood—which does not have voids—so when I cut through the push stick I don't run the risk of the heel breaking off. I will cut through a push stick a few times and once the heel starts to get compromised, I throw out the push stick and get a new one.
Unlike push sticks with a short beak, the long hook of this one allows me to hold a board securely when ripping at the tablesaw, and it really holds the wood while I drive the piece into the fence when making ripcuts. The heel of this push stick supports the wood and allows me to push the workpiece through the blade or over the cutterhead. The sacrificial heel is long and has substance, allowing me to cut narrow pieces to width safely since I can run the push stick through the blade of the tablesaw.
The shape of the handle is important, too. It keeps my hand well above the blade and allows me to drive a board into the fence when ripping on the tablesaw. When I point my index finger on top and wrap the rest of my hand under the handle, the push stick becomes an extension of my hand and I can better control how and where I direct the pressure.
I can usually get two push sticks out of one piece of scrap Baltic birch. I make sure I cut the long hooks for the two push sticks first on the tablesaw before doing any bandsaw work. Once the tablesaw cuts are done, it is safe to finish cutting out the rest of the push sticks on the bandsaw. I always have a bunch made so I can keep them at different machines. Once you start making—and using—this simple but mighty push stick, you can throw all the others in the trash.
You can download a template for Ellen's push stick below
More on FineWoodworking.com:
View PDF